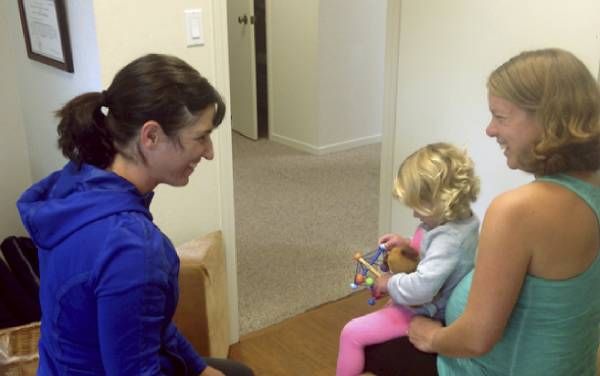 08/23/2016 by GOLDI JACQUES-MAYNES
We'll Help You Stay Active During Your Pregnancy
Chiropractic care is natural and safe before, during, and after pregnancy. Many pregnant women suffer from low back pain, sciatica and neck tension. Dr. Goldi herself was adjusted throughout her two pregnancies and found significant relief from low back pain and aches associated with a normal pregnancy. This kept her active and doing the work she enjoys, instead of being unhappy and uncomfortable...
Chiropractors can support expectant mothers throughout their pregnancy. Low back pain and discomfort is common during pregnancy and chiropractic care can help aleviate that.  Although a woman's body is going through many physical changes, there is no reason she cannot have an enjoyable, active experience throughout her pregnancy. Chiropractic care during pregnancy also promotes a healthy pregnancy and an uneventful labor and delivery.
Dr. Goldi Jacques-Maynes uses STANDARD, DIVERSIFIED TECHNIQUES (AND LIGHTER FORCE) ACTIVATOR ADJUSTMENTS to help a woman as her body is changing throughtout her pregnancy. She also uses a technique with ROCKTAPE.
Prenatal Kinesiology Taping Offers Relief
Kinesiology Taping during pregnancy can be used in many ways.  The "baby belt" application provides a lot of relief for pubic bone and lower abdominal pain.  It makes sleeping during pregnancy more comfortable and makes it easier to move.  In general, this taping application is much more comfortable than a typical belt worn during pregnancy.  It also eases rib and belly pain with sitting.
THANKS POLLY FEYEREISN FOR YOUR REVIEW ON FACEBOOK:
I've been in to see Goldi during both of my pregnancies which has helped me to stay active through each! Today was even better because my 2 year old was acting her age and even with her sitting on the bed Goldi was still able to adjust me. I recommend her to all my friends especially the pregnant ones.
Thanks Mary P. for your review on Yelp:
I've been seeing Dr. Goldi for several years (I've had back problems since a childhood injury) and she's so great at getting me back on track. It's wonderful how knowledgeable & considerate she is of my issues and how she's willing to research any questions or new issues I have.
I especially took to her adjustments when I was pregnant and saw her once a week during my later months, the alleviation of my pregnancy back pains meant the world to me and I will always be grateful for that comfort she provided! And now my 3 yr old son loves going with me to the chiropractor and he gets adjustments too!
Feed