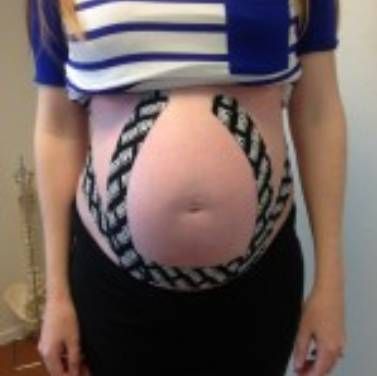 05/02/2017 by GOLDI JACQUES-MAYNES
Chiropractic and Rocktape Supports Pregnancy
Pregnancy is Tough. RockTape is Tougher.  Pregnant mammas visit Golden Chiropractic because we offer a natural drug-free approach to relieving that all too common lower back pain. Many moms say they feel more energized, get better sleep, and show up better in other areas of their life when they are adjusted regularly throughout their pregnancies. The mamma…
Pregnancy is Tough. RockTape is Tougher. 
Pregnant mammas visit Golden Chiropractic because we offer a natural drug-free approach to relieving that all too common lower back pain. Many moms say they feel more energized, get better sleep, and show up better in other areas of their life when they are adjusted regularly throughout their pregnancies. The mamma shown above also got some RockTape for extra support when she goes to work. 
Pregnancy is a Tough 40 Weeks on a Woman's Body.
Considering the physical, hormonal and emotional changes that occur, pregnant women need a lot of support. Many women experience a sore and fatigued back from the biomechanical stress of carrying the extra weight. Chiropractic adjustments and RockTape can help. RockTape has created many different taping protocols with the goal of easing the pain and stress on the pregnant body. Swollen feet? RockTape can help. Sciatica? Plantar Fasciitis? Rib Pain? RockTape can help. CLICK HERE FOR A QUICK TUTORIAL ON SOME OF THE COMMON PREGNANCY APPLICATIONS OF ROCKTAPE.
What Other Mammas are Saying
Read RICHELLE L.'s REVIEW of GOLDEN CHIROPRACTIC on YELP Read MISS MARY P.'s REVIEW of GOLDEN CHIROPRACTIC on YELP
READ MORE ABOUT HOW GOLDEN CHIROPRACTIC CAN HELP DURING YOUR PREGNANCY
Feed