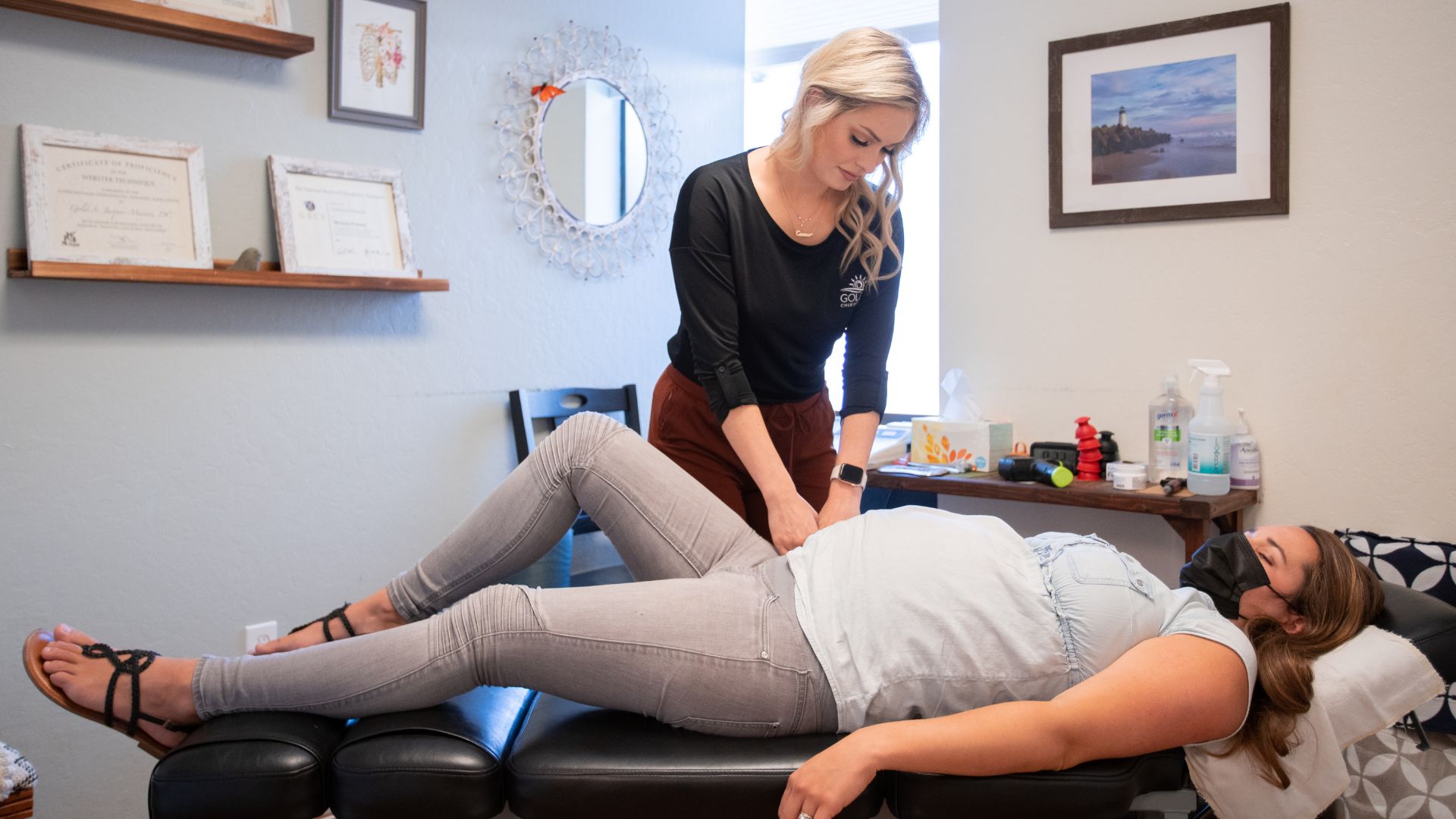 10/04/2022 by Dr. Goldi Jacques-Maynes
Prenatal Chiropractic Care by Trimester
Moms-to-be should feel confident in their ability to carry and birth their baby just as they want to. It's your body and your baby. At Golden Chiropractic, we see our role as members of your support team—helping you have a healthy and successful pregnancy and birth.
Basing our prenatal recommendations on clinical experience and research, we treat the three most important components of a pain-free, uber-healthy pregnancy and successful birth:
Health of Mom and Baby
Mental Preparation
Physical Preparation
Chiropractic, acupuncture, massage, and nutrition support optimal health and ease throughout your pregnancy, and beyond. Below you'll find our general recommendations for your prenatal and postpartum pregnancy stages.
First Trimester Chiropractic Care
Goals:
Setting you up for success
Establishing your prenatal team: OBGYN, midwife, doula, chiropractor, acupuncturist, massage therapist, CST
Care plan:
Chiropractic care begins

Wellness treatment every 2-4 weeks

Massage
Begin prenatal vitamins
Light exercise: walking, prenatal yoga, etc.
Second Trimester Chiropractic Care
Goals:
Preventing pain
Maintaining pelvic alignment
Preventing baby positioning issues
Maintaining health & fitness
Easing stress
Care plan:
Chiropractic care
Prenatal massage

Ease mental and physical tension
Every 2-4 weeks

Continue with prenatal vitamins and exercise
Begin birthing classes and other educational workshops to help prepare
Third Trimester Chiropractic Care
Goals:
preparing for labor, delivery, and beyond
Care plan:
Webster Technique for optimal fetal positioning at every visit
Focus on preparation for labor and delivery

Birth plan
Goals
Postpartum questions

Prenatal massage to ease mental and physical tension
Acupuncture

1-4 treatments to prepare the uterus for labor and delivery
could include induction and optimal fetal positioning

Continue exercise as able
Fourth Trimester/Postpartum
Goals:
Setting you up for success
Establishing your postpartum routine
Care plan:
Home care: a collection of advice from moms, doulas, and our doctors for the first 2 weeks after the baby is born:
Stay home with the baby
Focus only on nursing/feeding, eating, sleeping, and showering
No shopping, no laundry, no cooking
Limit home visitors if you are feeling overwhelmed or unsure

Be very clear about how long they should stay, and what you want help with

Ask for help when you need it (ie. playdates for older siblings, food prep)
Nutrition & Fitness
Hydrate: drink about 100oz of water daily
Eat frequent, nutritionally-balanced foods and snacks
Continue prenatal vitamins, including Calcium, Magnesium, and Omegas, while nursing
Start baby on Vitamin D (400-1000 units/day), especially if nursing
Check with your Chiropractor and Midwife or OB before you begin to exercise
Plan to begin with gentle stretching and walks with baby
Chiropractic & Massage 
Schedule your first postpartum appointment

2 weeks after the baby's birth
We check you for any aches and pains related to labor/delivery/nursing, etc
Once weekly for 4 weeks, tapering to every other week until fully immersed in regular fitness / home routine
Resume chiropractic adjustments as needed, every 3-4 weeks

Schedule first appointment for baby: meet and greet and visual examination
Pregnancy can be an anxious and very uncomfortable time. The best way to manage pregnancy-related concerns is to have a good plan and a good care team on your side. Keeping you out of pain and easing your anxiety and discomfort will help you have an optimal pregnancy, childbirth, and postpartum experience. If you're ready to begin prenatal or postpartum care, you can schedule with us online at this link. 
Feed