CHIROPRACTORS
Our Chiropractic Team Believes in Evidence-based Treatment Plans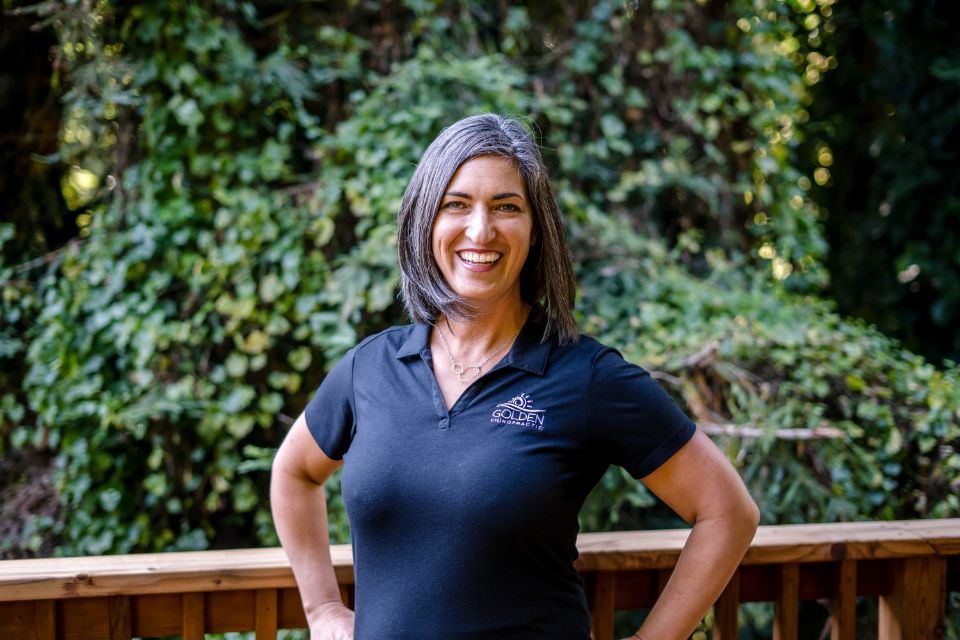 Dr. Goldi Jacques-Maynes is the Founder of Golden Chiropractic in Aptos
Dr. Goldi loves treating generations of families, including stressed-out moms, and their active husbands and kiddos. She also serves retired folks struggling with the aches of aging but still wanting to keep up with their hobbies and grand-kids.

She's achieved a degree in Molecular Biology, worked as a massage therapist for a professional cycling team, and successfully practiced over 15 years as a chiropractor in private practice. These experiences inform her ability to understand the root causes of her patient's pain.
While Dr. Goldi has achieved a great deal in the sciences and the healthcare industry, she feels her biggest accomplishment is that her patients are living healthier and happier lives. When multiple generations of one family pop into her Aptos clinic to say hello, or to give her a hug, she feels that community connection she has worked to create. When her patients and their families are thriving, that's when she knows she's done great work.
Dr. Goldi's motto, "Get Out of Pain, and Back Into Life" drives her core belief that anyone, at any age, is capable of improving their quality of life through appropriate self-care.
Read more about Dr. Goldi's Healthcare Philosophy and Journey here.
As for her own self-care, Dr. Goldi suffered an L5 disc bulge in 2012. She suffers with periodic bouts of sciatica and acute locked back syndrome. Regular self-care through chiropractic, massage, acupuncture, and exercise help her stay out of pain.
Dr. Goldi is the co-host of the ChiroMom Podcast. If you are a stressed-out, overwhelmed mom, listen as the ChiroMoms discuss life, health, business and friendship.
Dr. Goldi's Education
Graduated with Honors, BS Molecular Biology, UC Santa Cruz, 2000

Twin Lakes College of the Healing Arts, Massage Practitioner, 2003

Doctor of Chiropractic, Palmer College of Chiropractic West, 2007

Graston Module 1, 2007

RockTape, Rock Doc Certified FMT1 2015, FMT Movability 2016, FMT RockPods 2018

Craniosacral Therapy - Myofascial Unwinding Dynamic Body Balancing, Level 1, 2, 3 certified, 2021

Webster Certification, ICPA 2021

Spinning Babies Workshop, 2023
Dr. Goldi's Community Work With Families and Athletes
Lead Event Coordinator, Palmer West Sports Council 2004

Lead Event Coordinator, Palmer West Sports Council 2005

President, Palmer West Sports Council 2006

Internship at Driscoll Chiropractic in Watsonville, 2007

Opened Golden Chiropractic, 2008

Medical Director, Sea Otter Classic, 2007-2009

President, Watsonville Cooperative Preschool 2010/11

On-Site Coordinator for Bike to School Day at Bradley Elementary (bi-annually since 2011)

Secretary, Bradley Elementary Home and School Club (PTA) 2013/14

Co-host of the ChiroMom Podcast, since 2021

Walk With A Doc, Santa Cruz Chapter
Dr. Goldi's Work With Mama Chiropractors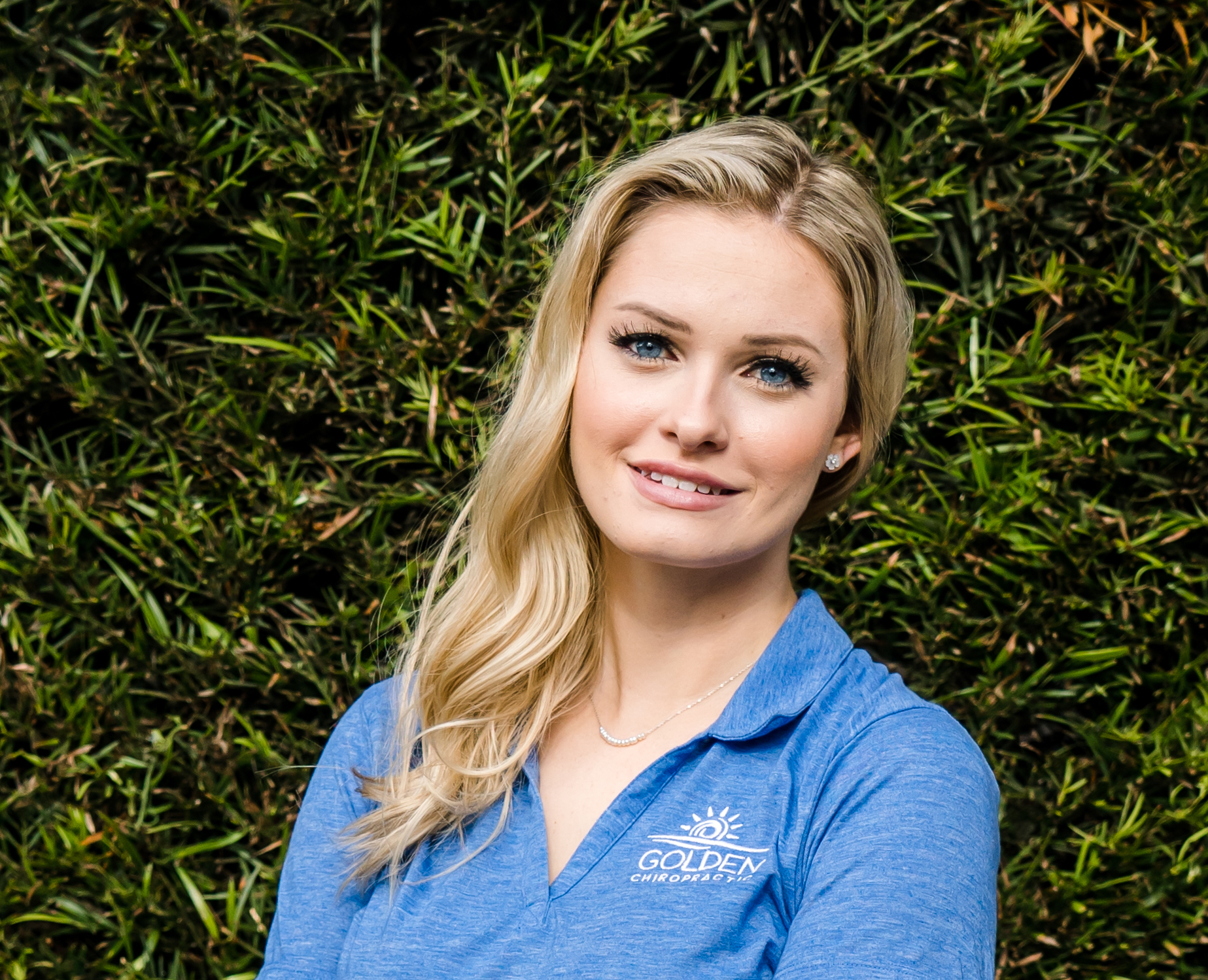 Dr. Michaela Peterson D.C. Wants You to Feel Amazing
Like all of our staff, Dr. Michaela believes that if you can move your body easily and without pain, you're primed to focus on the things that make you happy. She loves helping her patients experience the biggest benefit of chiropractic: feeling well cared for and ready to get back into life.

Dr. Michaela loves getting to know the members of our community and learning their life stories. She believes that human connection is an important part of the healing process. She truly gets to know our patients in order to create individualized plans for healthier, happier lives. Dr. Michaela lives for that look our patients give her when they arise from the table and their pain is gone.
Dr. Michaela's Education
BS, Kinesiology with a minor in Health Promotion from Michigan State University, 2018

Doctor of Chiropractic, Palmer College of Chiropractic West, 2021
Dr. Michaela's Chiropractic Areas of Focus
Manual Adjustments

Drop table & Pelvic Blocking

Activator

Motion Palpation

Cranial Work

Instrument Assisted Soft Tissue Technique

Cupping

Trigger Point Manual Therapy

Webster Trained

Nutritional Interventions

Percussive Massage w/ Hypervolt +
Dr. Michaela's Chiropractic Experience
Internship at Infinity Chiropractic Center in East Lansing, Michigan, 2017

Rotation in Palmer West's outpatient clinic, 2021

Internship under Dr. Goldi, fall of 2021

Associate Chiropractor, Golden Chiropractic, winter 2021

Webster Certification, ICPA 2021

Infant Lip & Tongue Tie Certified

Member, International Affiliation of Tongue-Tie Professionals (IATP), 2022
Dr. Michaela's Leadership Roles at Michigan State University
President Pre-Chiropractic Association, 2017-2018

President of the university's chapter of the Society for Collegiate Leadership & Achievement, 2016-2018

Board member of the Pre-Health Council, working closely with the Muscular Dystrophy Association, 2016-2018
WHAT PEOPLE SAY ABOUT US…
Goldi is great with kids too!!!
My son loves going and Goldi was able to help him immediately with his neck pain. He was having issues from wearing baseball gear so much and seeing Goldi really helped!