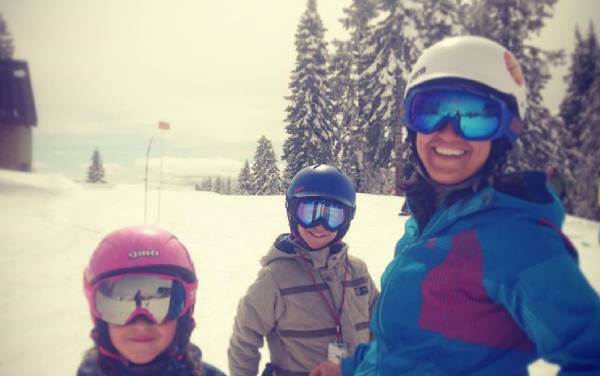 04/18/2017 by GOLDI JACQUES-MAYNES
Dr. Goldi's Healthcare Philosophy and Journey
At Golden Chiropractic our motto is, "Get Out of Pain and Back Into Life." Getting back into life means different things for different people. For me it means being there for my family, enjoying physical activities outdoors, and giving my patients the best care possible.
I like seeing happy families. I believe that when mom and dad are out of pain, the whole family is happier. My own family is important to me, so I really try to take care of myself. I want to be happy and healthy for my family and with my family. 
For Me, Chiropractic Care is Very Personal
For my own personal self-care, I get adjusted regularly, twice a month unless I'm injured, then more often. I get regular acupuncture and massage too, once a month is ideal. On my days off I'm very active. I'm usually beating myself up working in my garden, swimming, stand-up paddleboarding, keeping up with my kids, skiing, cycling, and learning some crazy new sport or taking on some sort of physical challenge. Regular chiropractic care is what keeps me moving. I believe in what I do because I see how it keeps me living the life I want to live. I also take great joy in providing these health benefits to others. I have a very personal connection to chiropractic care. Chiropractic helped me with sports injuries in high school and with snowboarding-related whiplash in my early 20's. It was a chiropractor who helped me with repetitive strain injures when I worked in a molecular biology lab. These life events inspired me to want to help people, and attracted me to the alternative health field. I love and have commited myself to hands-on work that changes lives for the better.
Massage, Chiropractic, Molecular Biology, It's All Connected
I began my career in alternative medicine as a massage therapist working part-time as a soigneur for Sierra Nevada Cycling Team. Massage therapy taught me to see the connection between tissue and bone and understand how muscles move bones through space. I can make more lasting change with my adjustments because I've encouraged the release of a tight muscle that won't pull the bone out of place again. Massage therapy can release muscular tension on nerves. I can diagnose and relieve your pain from multiple perspectives because I seek to truly understand the origins of your pain. I keep learning because the human body fascinates me. Because of my scientific training in molecular biology, I enjoy reading studies on the causes of pain. I am also able to understand the physiological contributors of stress on a molecular level: I can assess your physical, chemical, and emotional stress and help you see how it affects your body.
I Believe in Treating the Whole Patient
As a chiropractor, my role is to treat and address the physical manifestations of your pain. My further studies allow me to also coach you on the chemical and emotional components of that pain. I see my practice as holistic: both treating pain and addressing the causes of pain. More than anything, I want to provide my patients relief. I strive to make patients feel confident about the ways chiropractic care can help them. I want to ensure that my patients enjoy being cared for and learn how to better enjoy their life by making choices to improve their health and well-being. No matter the cause of your pain, when you visit Golden Chiropractic, I make it my goal to improve your life by helping you to take care of you.
Come visit us soon,
Dr. Goldi
Dr. Goldi lives in Corralitos along with her husband, former professional cyclist Ben Jacques-Maynes and their two children. She knows the joy of playing outside with her kids in the woods and at the beach, enjoying all the area has to offer, and serving her patients with the best care she can provide.
Feed