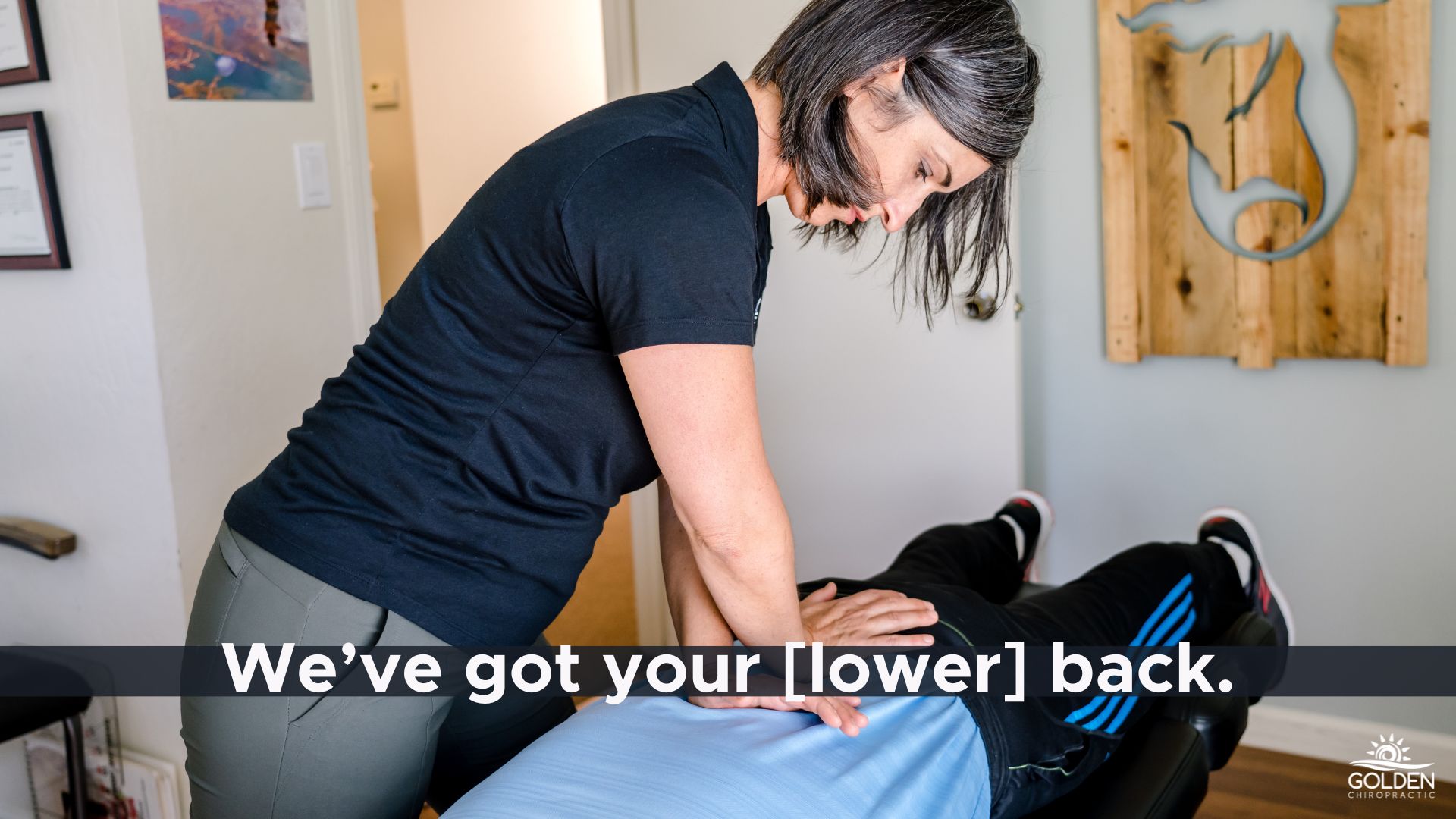 10/05/2023 by Dr. Goldi Jacques-Maynes
Chiropractic for Common Low Back Conditions
Low back pain can make you miserable for a few days, weeks, or even years when it's chronic! For some of our patients, we can provide instant and lasting relief from discomfort through chiropractic care. For others, we manage pain through regular visits and ongoing maintenance. No matter the cause of your low back pain, chiropractic can help.
What are the causes of low back pain?
Your back is an amazing but complex structure:
Your vertebrae stack up to form your spine, providing structure
Wrapped around these bones are your back muscles, giving you strength and movement
Your connective tissue—ligaments, tendons, and fascia—hold it all together, keeping everything in place
In between each vertebra are your discs, acting as cushions to absorb shock
Running through this whole system is your spinal cord, with spinal nerves branching out to transmit messages from your brain to the rest of your body
When you feel pain in your lower back, it could be dysfunction in any one (or more) of these anatomical structures.
Common conditions we see that lead to low back pain:
Dr. Goldi has personal experience with low back pain.
With occasional flare-ups from a herniated disc, Dr. Goldi has faced the emotional and physical challenges of living with recurring low back pain. She learned a long time ago that neglecting preventative treatment leads to numbness, tingling, and immense frustration. That's why she makes time for regular chiropractic adjustments, exercise, and other forms of self-care.
How do chiropractors treat back low pain?
Based on your diagnosis, we'll make a personalized treatment plan.
Treatment for your lower back pain could include some of these techniques:
Adjustments
Heat
E-stim
Myofascial Cupping
Craniosacral & Myofascial Unwinding
Myofascial Blading
Webster Technique
Sometimes we'll determine that treating your condition is beyond the scope of our practice, and we'll work with you to make sure you see the right specialist to help you achieve your best outcome.
Here's what treatment and outcomes looked like for a few of our patients with low back pain:
"Injured my low back recently and went to see Dr. Goldi in extreme pain. After her top-notch care, I felt immense relief by night. On my next visit, I felt rejuvenated! Dr. Goldi didn't just fix the issue, she gave me exercises to prevent it in the future. Highly recommend her." – George M on Yelp.
"Dr. Goldi is exceptional. She listened compassionately to my concerns and advised an MRI to pinpoint the cause of my Sciatica. It turned out a bulged disc was responsible. While my treatment went beyond her practice, she took the time to guide me on next steps, suggesting specialists for further care. From start to finish, her kindness and expertise shone through. I wholeheartedly recommend her." – Mel A. on Yelp.
"Michaela is outstanding! Twice she pinpointed my back issues, offered clear explanations, and educated me on home care. When my problem wasn't about alignment, she honestly guided me to the right care. Highly recommend!" – Lauren G. on Yelp.
How do chiropractors diagnose the cause of low back pain?
We always begin by taking a comprehensive health history. After that, we may perform orthopedic tests, palpation, examine your skin, evaluate your nerves, and if necessary, refer you for imaging or specialist management.
How long does it take for chiropractic to work on low back pain?
The duration of chiropractic treatment varies. It really depends on the root cause of your low back pain. Acute conditions, like throwing out your back, might see quick resolutions. Chronic conditions, like chronic lower back pain, may require prolonged, ongoing pain management.
Are you struggling with low back pain?
If you're close to Aptos, come see us! Our chiropractors are trained in varied techniques and will ensure you get the best treatment to get you back into life. Schedule with Dr. Goldi or Dr. Michaela online.
Feed