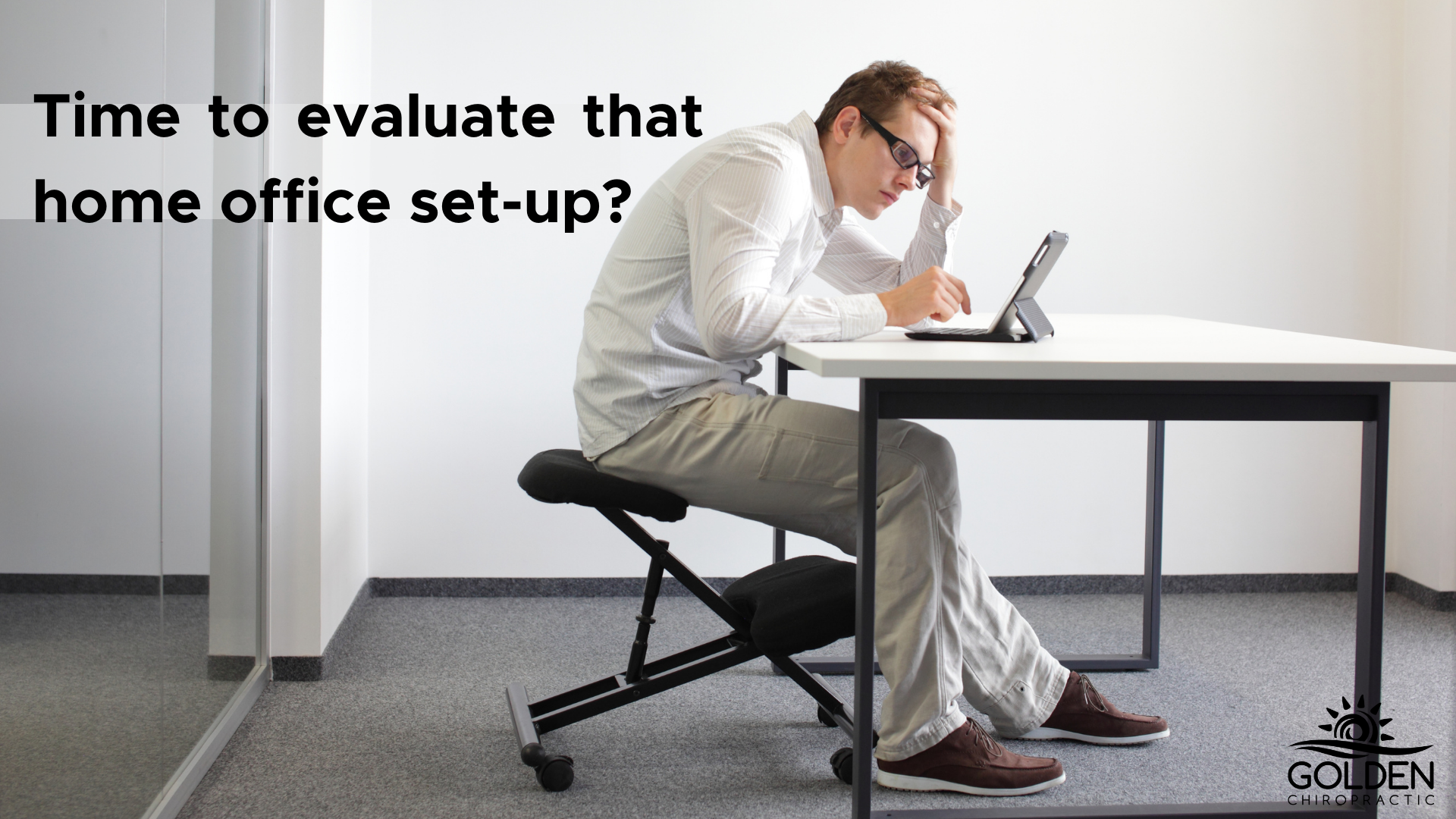 01/11/2019 by GOLDI JACQUES-MAYNES
Optimize Your Work Station for Reduced Pain
Where have you been working over the last few years? Your kitchen table? Curled up on your couch? Reclined in bed? If this is you, you may be asking for a world of pain, and some chronic posture problems in the future.
Working from home may have many benefits, but supporting a pain-free lifestyle often isn't one of them. If you're experiencing pain in your neck, back, or even hips and legs, it could be from your home office set-up.
Poor ergonomics could mean a lot more intermittent pain today, and maybe some chronic pain from a serious condition later in life. Is it time to assess the set-up of your home work station?
Improper ergonomics cause many musculoskeletal conditions.
We see these sometimes surprising computer-work related conditions in our office, quite often.
upper back pain
low back pain
hip pain
shoulder pain
wrist pain
How do you know if your pain is from poor ergonomics?
An ergonomic diagnosis involves chronic pain that doesn't get better over time.
Chronically poor posture over time leads to chronic postural-related pain. Since we often spend hours in front of our devices for work, we have a high chance of creating long-lasting pain and discomfort. 
Long hours at the computer, day in and day out, mean your body never gets the time to recover properly. Many people feel better on the weekends because the strain stops when they leave work. Unfortunately, we tend to spend a lot more time at work than away from work, so your workstation must be assessed and adjusted to ensure musculoskeletal health. 
Proper ergonomic adjustments reduce  pain and fatigue.
Feeling pain from your work environment? These adjustments can help you feel better:
Make sure your neck is vertical
Your arms should be relaxed at your sides
If you're in pain from poor ergonomics, there are chiropractic treatments that help.
Once we determine poor ergonomics are the issue, we may use one (or all) of the following in your treatment plan:
Correcting poor ergonomics
Aligning the spine so stressed muscles and tired joints rest and repair
Performing other chiropractic adjustments for your specific pain
Prescribing exercises for pain relief, strengthening, and/or flexibility
Continuing physiotherapy 
Suggesting products based on your individual needs
Having some pain? Need advice on setting up your home office? Make an online appointment. 
Wondering how you can set up your own home office for optimal ergonomics? 
Here's a fun video to help you set up an ergonomic workspace at home:
Feed