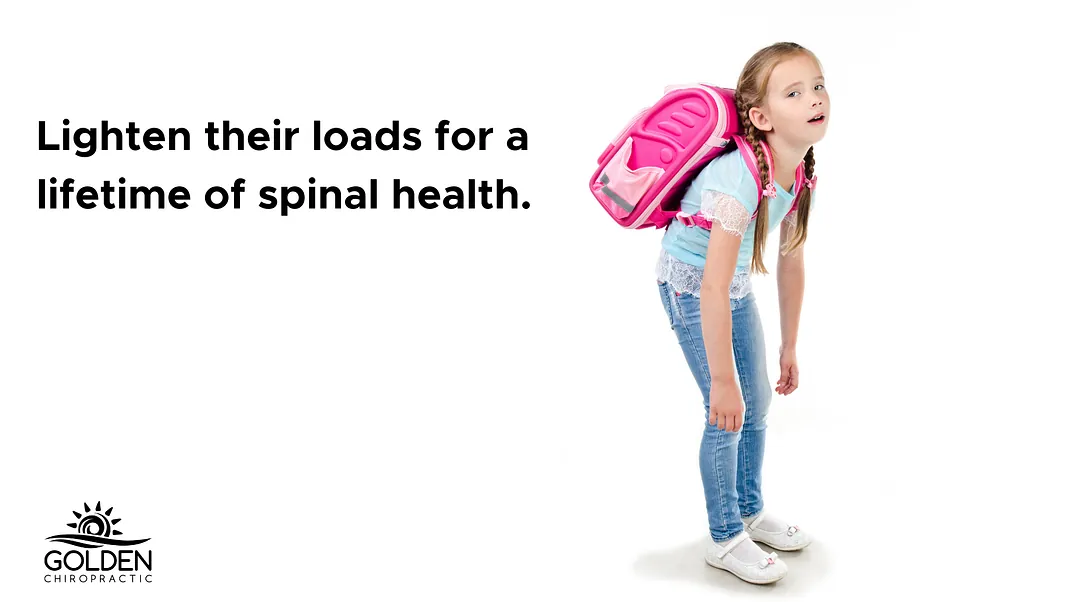 08/22/2017 by GOLDI JACQUES-MAYNES
Protect Your Child's Back Health With These Backpack Tips
Many parents worry that their child's backpack is too heavy. Heavy packs can lead to neck, shoulder and low back pain. Even worse, a backpack can lead to poor posture that will have long term effects on a child's spine. 
If your child is experiencing back pain, neck pain, stiffness, poor posture, headaches, or numbness and tingling in their hands, definitely take a look at what they carry and how they carry it...
The American Academy of Pediatrics recommends that a backpack be no more than 10-20% of a child's body weight. For example, a 100 pound child should carry a backpack of no more than 15-20 pounds. As parents, we need to help our children learn to pack light.
How We Worked to Lighten Our Kid's Loads
When my son started school at Aptos Junior High, we discovered that his math and language arts textbooks together weighed more than 10 pounds. With the added weight of his lunch, his supplies, and his pack's intrinsic weight, we knew he needed a solution. We looked online and discovered that it was possible to purchase his books. On the first day of school, a teacher informed him that online versions of his textbooks were available as well. As a family, we are taking a proactive approach to preventing backpack related pain by looking at what's possible to ease the load on his spine.
More Tips for Avoiding Health Issues from Backpacks
Choose a backpack with wide, padded shoulder straps and a padded back
Use 2-2.5 inch wide straps
Wear the backpack using both straps to evenly distribute the weight of the pack across the shoulders
Use the chest strap because it reduces compensatory arching of the low back
Empty the backpack every night
Attempt to reduce the load by leaving books in the child's locker or at home
Adjust the pack so that the bottom sits at your child's waist
If your child must carry more than 20% of their body weight each day, consider a rolling backpack
Be sure the school allows students to stop at their lockers throughout the day
Check for online versions of your child's textbook
Consider buying a second set of textbooks for your student to keep at home. Amazon and EBay are good resources for buying used books
Get Proactive for Children's Spinal Health
Talk to your child's school about lightening the load. Encourage your child or teenager to tell you about pain or discomfort. Do not ignore any back pain in a child or teenager. Ask your chiropractor to check your child's spine.

For further information, read backpack safety from the American Academy of Pediatrics.
Is your child in pain? Make an online appointment now.
In our clinic we treat kids for sports injuries, but also posture related text neck, backpack related upper back tesion and low back pain.
Click here to watch a video Dr. Goldi posted to FB on backpacks.
Feed