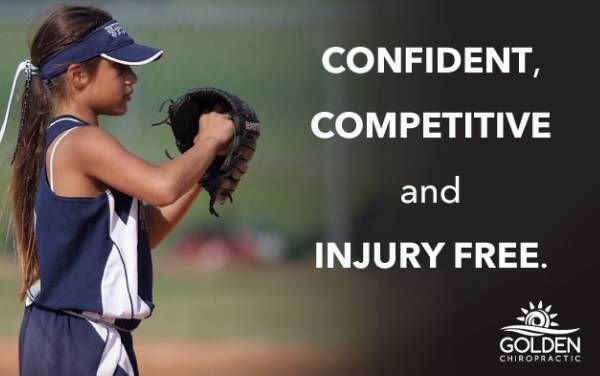 03/16/2017 by GOLDI JACQUES-MAYNES
Help Your Kids Avoid Sports Injuries
It's spring, and many of our kids are getting more active. Baseball, softball, and dance recitals are the activities of the season. Organized physical activities are healthy, keep the body moving, and build confidence. Kids learn to care for their bodies, be mindful of their thoughts, and develop social skills. These activites set kids up  for a happier, healthier life...
Athletic activities give kids health and self-esteem. The problem is, they also come with occasional injuries. It is imperative to help your child prevent injuries. Injuries are not just inconvenient. They can also lead to long recovery times, and permanent damage.
At Golden Chiropractic, we often see injured kids. We want your kids to stay active. Mountain biking, football, surfing – it's all great! We also want to help prevent kid's injuries, so we developed this BASIC SPORTS SAFETY CHECKLIST:
Take Breaks for Physical and Psychological Recovery
Kids should take 1-2 days off a week. Breaks from competitive athletics, sport-specific training, or competitive practice are necessary. This allows time for both physical and psychological recovery. Encourage movement and unstructured free play on the 'rest' days.
The National Athletic Trainers' Association Recommends
youth athletes limit sports to 16 to 20 hours per week. Other sources suggest that kids only train for as many hours a week as they are old. We also suggest 1-3 months a year where your kid is not actively training for sports. Let them explore other interests or physical activities that aren't coached and dictated by rules and adults . Mixing up their sports helps kids physically and mentally. It reduces the chance of overuse injury, and improves general fitness.
Choose the Right Gear for the Best Protection
Helmets for cycling, football, and skiing are a must for protecting your child's brain. Use protective athletic gear appropriate for your kid's sport. Do they need eye protection, mouth guards, or cups? Make sure your kid's athletic shoes are the right size with supportive insoles inside.
Strengthen Muscles for Proper Form
Injury rates are higher in athletes who have not prepared their bodies. Good form develops a strong movement pattern that reduces excessive strain. Coaches and athletic trainers can guide aerobic conditioning, strength training, and agility conditioning. Make sure you are knowledgeable about your child's training program. Understand proper form for avoiding injuries.
Increase Flexibility for Healthy Spine and Joints
Your child should perform DYNAMIC STRETCHING before athletics and STATIC STRETCHING after sports. Make flexibility of the spine and large muscles groups a daily routine.
Stop Activity If There Is Pain
Never train into pain. Teach your child to listen to their body. It's best to decrease training time and intensity if pain or discomfort develops. Stop training if there is pain. Speak to a medical professional or athletic trainer. Discuss the possibilities of injury or injury prevention strategies.
Parents and Kids Need to STRESS-LESS
Keeping the focus on fun and skills development will build character in your child. Winning isn't the most important thing in youth sports. Reward your kids for trying hard, and for improving their skills. Sports should be FUN. The goal is for kids to learn lifelong physical activity and skills.
Watch for Signs of Burnout
Signs of burnout include non-specific muscle or joint problems, fatigue, or a dip in grades. Often, the surest path to burnout is to play the same sport season after season. If your child is showing signs of burnout, try to avoid the pressure of playing every sport year round. Sit down for a heart-to-heart talk about your child's sports participation. Decide together to take one season off a year.
 
If your child is experiencing pain from injuries, MAKE AN APPOINTMENT WITH GOLDEN CHIROPRACTIC.
We'll do our best to get your kid out of pain, and back into sports.
Feed