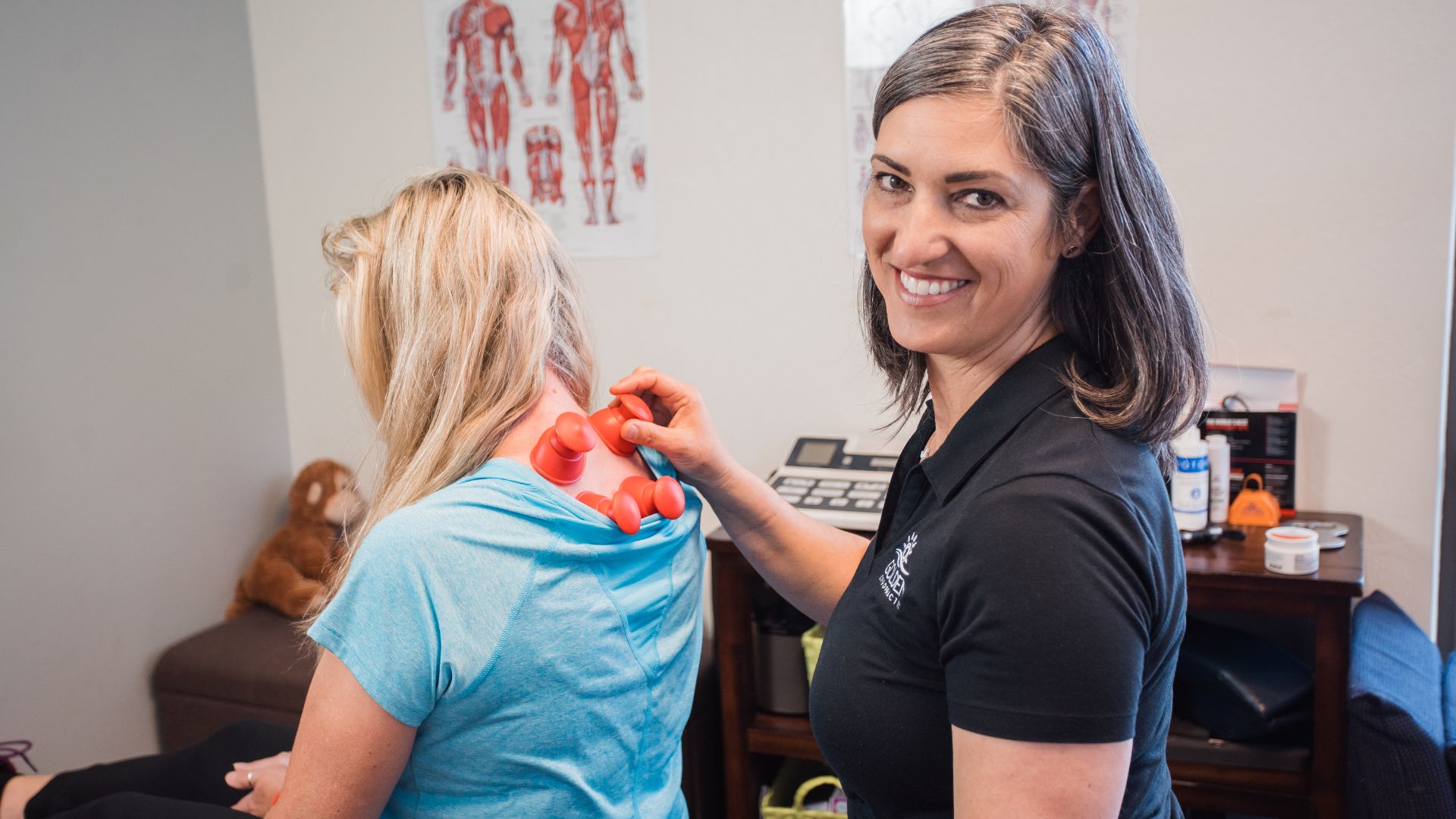 08/21/2018 by GOLDI JACQUES-MAYNES
RockPods for Myofascial Cupping
Cupping therapy has many benefits, that's why all of our healthcare professionals offer it. If you need relief from: 
painful trigger points
painful muscle tension
limited mobility and range of motion
cupping may help. If we believe cupping would help you, we'll apply RockPods — silicone cups that stick to your skin to help relieve your pain and soreness, as well as improve your range of movement.
How do RockPods work?
RockPods are rubbery suction pods. They use negative (decompressive) pressure to lift, separate, and stretch underlying soft tissues. The pods allow us to grab, pull, and push fascia to treat pain, mobility, and movement dysfunctions. 
What does myofascial cupping do?
FMT Myofascial Cupping affects the body's nervous, immune, and fascial systems. Cupping encourages the body's natural healing process by encouraging flow and discouraging congestion. Myofascial cupping:
increases blood flow to a region, which delivers oxygen to the tissues. This encourages both healing and congestion removal
causes anti-inflammatory, antioxidant, and anti-cell death chemicals in the body
stretches tight fascia and muscles
Conditions we have treated with RockPods
We've treated patients with neck tension, shoulder pain, low back pain and exercise related muscle soreness. These patients see faster results, increased movement, and decreased pain.
Dr. Goldi treated a former water polo athlete with chronic right shoulder pain. The patient was already receiving chiropractic adjustments and myofascial blading. After adding cupping therapy to her treatment she notes:
"It feels less pinchy in the front of my shoulder when I raise my arm. (After cupping) I get a feeling of warmth in my shoulder that feels like I had a hot pack on my shoulder for 30 minutes. I can feel the increased blood flow and my shoulder moves again!"
How is myofascial cupping different from other chiropractic treatments?
Myofascial cupping is the opposite of massage and myofascial blading. Rather than pushing and compressing soft tissue, the cups lift and decompress. We can push and pull on the cups to create a shearing affect between the layers of fascia. This helps increase mobility in tense areas like the shoulders, hips, and IT bands.  The cups also stimulate nerve receptors in the skin which has a sedative effect on pain.
There are three main cupping techniques: fixed dry cupping, flash cupping, and massage cupping.
Fixed dry cupping

is used on a fascial adhesion or trigger point for a short time to reduce or eliminate it. The cups are applied directly to the site of pain or dysfunction and left there for 90 seconds to 5 minutes. Fixed cupping may cause slight discomfort. It may also cause discoloration marks that look like round bruises. These marks are normal, generally disappear within a couple of days, and indicate that a healing process is occuring.

Flash cupping

is applying the cup and pulling it off the skin quickly, then repeating that process. The cups are applied for less than five seconds before being pulled off.  This technique is great for managing pain. Flash cupping generally does not leave visible marks.

Massage cupping

applies the cups on an affected area and moves them over the surface in a gliding motion. The skin and muscles aren't compressed like a traditional massage. They are pulled into the cup. Massage cupping generally does not leave visible marks.
Where are RockPods applied on my body?
RockPods are typically applied on the neck, shoulders, back, sacrum, hip, thigh, calves, and upper arms. RockPods stimulate the body's natural healing process to:
treat chronic pain
relieve tension
sedate the nervous system
ease musculoskeletal pain and discomfort
treat sports injuries, mobility and movement dysfunctions
Interested in seeing the benefits of myofascial cupping for yourself? Ask us about how cupping might help you at your next appointment. Book online here. 
Feed