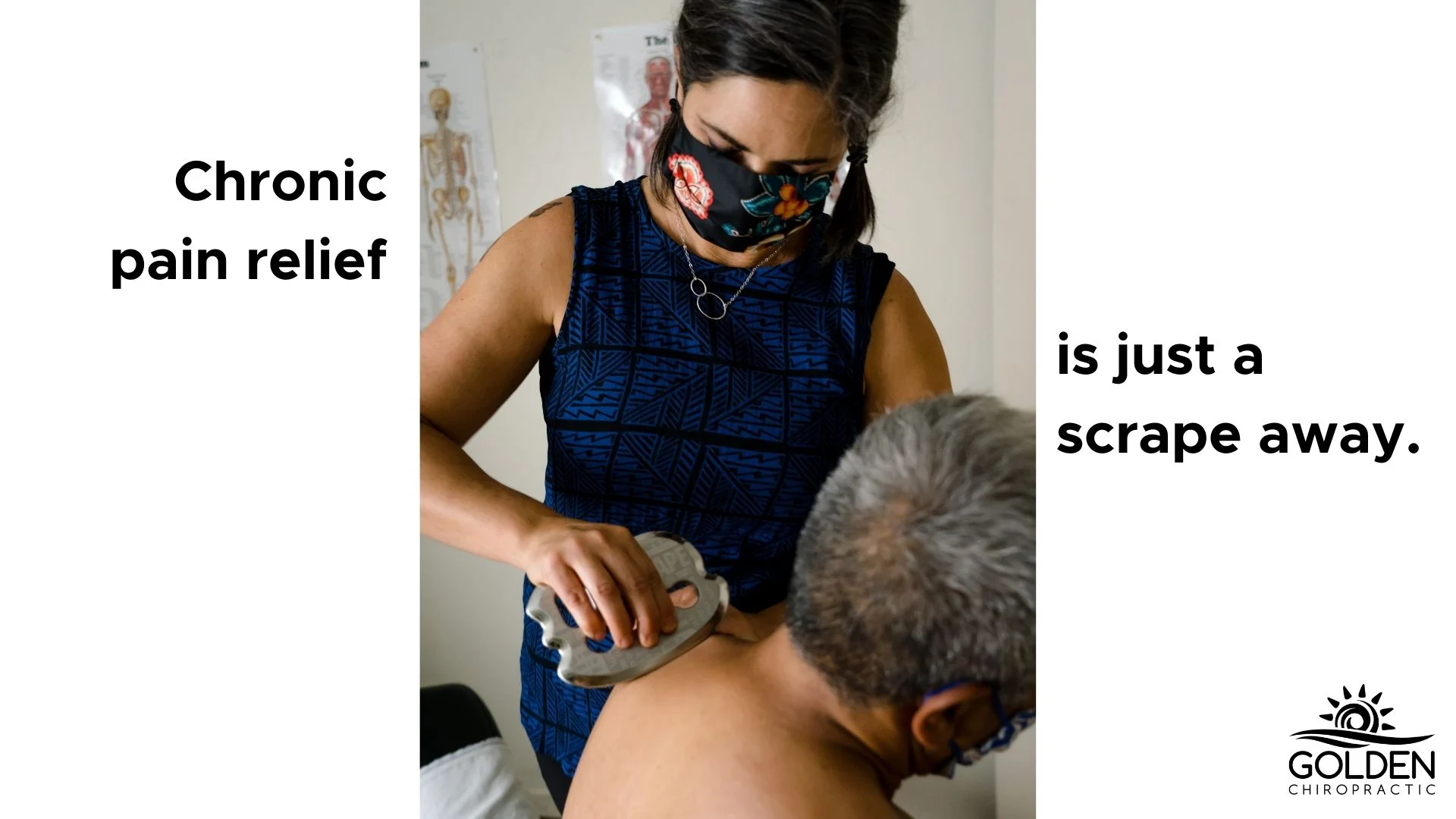 04/05/2022 by Dr. Goldi Jacques-Maynes
Get Back to Your Sport Sooner with Blading
When you can't keep training for that big event without pain, you really begin to worry.

Soft tissue injuries are not only debilitating, they're frustrating. You feel crummy and achy in your muscles. You're irritable from moving less and not getting those exercise endorphins. Worst of all, you're anxious about those training schedule setbacks. Soft tissue injuries don't just mess with your body, they mess with your head and stress you out.
When home treatments stop working, it may be time for blading.
What kind of athletic-related pain does blading treat?
We see a lot of patients with chronic hip pain or tightness from running, cycling, or walking over a mile.

We also see arm and shoulder pain or tightness from paddling, swimming, overhead lifting, and golfing.

In reality, any of our favorite outdoor activities can lead to pain and tightness. Our patients try ibuprofen, laying on a ball, trigger point work, stretching, or using a foam roller. These home treatments can help, but they don't offer long term relief.
Instrument Assisted Soft Tissue Mobilization (IASTM) is often the solution.
IASTM is also known as soft tissue blading or Graston. In the clinic we call it "blading." We've had a lot of success using blading as a treatment on our more active patients. 
Runner Jaquline M. was able to get back to training pretty quickly.
"My hip was bugging me when running. I tried stretching, self massage, acupuncture, and cupping. I was just ready for some relief.

I felt amazing after my treatment. I felt like my muscles and tendons totally relaxed and were less inflamed. After my first treatment I had so much relief that I was able to start running again!!!!

I'm so relieved because I have signed up for a big goal race, and after this treatment I feel like I can actually do it!"
Lifelong athlete Joy M. felt relief right after her first treatment.
"I was seeking treatment for neck and shoulder pain. These seem to be chronic injuries from years of sports including gymnastics, cheerleading, golf, and track and field.

When I went to sleep the night after my first treatment, I remember the relief I felt in my shoulder. Such a wonderful feeling!"
Which athletic injury symptoms does blading relieve?
Soreness from your workouts
Stiffness or limitations with active range of motion
Consistent pain when performing your sport
Why do chiropractors use blades to help athletic-related pain?
Blading has quite a few benefits for athletic folks.
Blades help us identify and treat soft tissue fibrosis or chronic inflammation. They also help us treat pain and tightness from scar tissue or fascial restrictions. Blading also helps during rehabilitation and range of motion maintenance programs.
Blading brings relief and speeds up healing for soft tissue injuries.
Blading helps relieve the adhesions and tension along the muscles and tendons. Blading techniques successfully treat chronic, acute, and postsurgical soft tissue conditions.
Blading helps highly active people feel and move better.
Over time, blading reduces or eliminates adhered fibers. Reducing adhered fibers restores range of motion and eliminates associated pain. It helps transform your soft tissue injury into healthy functioning tissue.
Blading can help you get back into your favorite sports ASAP.
Athletes love blading because we can improve their active range of motion, and help with recovery with just a few passes. Suffering from long or short-term pain and tightness from your favorite sports? Make an online appointment.
Feed