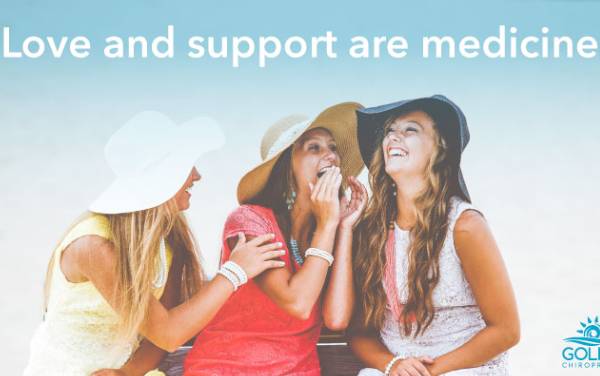 05/09/2019 by GOLDI JACQUES-MAYNES
TRUE SELF-CARE MEANS TAKING CARE OF OURSELVES BY INVESTING IN EACH OTHER
I don't know a woman who doesn't struggle to balance motherhood, marriage, work, exercise, and eating right.   The pressure to achieve expertise in every area of our lives leads to internal and external disharmony. Overwhelm, guilt, and exhaustion are the only things we end up achieving. The truth is, work-life balance is a myth.…
Simply put, we are nurturing our own stress.
It's stress that creates this disharmony. Disharmony leads to mental, physical, and emotional pain. Anxiety, insomnia, neck tension, and back spasms are often the result.
Because we expect ourselves to do it all alone, we keep experiencing the chronic pain that comes from all the stress. Our social isolation leads to deepening symptoms, and deepening pain.
But there is a solution. Invest in your sisterhood.
It happens to all of us. We try to manage by ourselves. But sometimes, self-care means stepping out of the self. Reaching out to the right support group is the way to lighten the load.
"I have a habit that has sustained me for life. I keep a close and high spirited council of girlfriends – a safe harbor of female wisdom." ~Michelle Obama
I recently went on a trip to St. Louis for the Elite Retreat.
I committed to a one-year group coaching program for high performing chiro moms. This group of women and I took time away from our lives, our families, and our practices. We traveled to St. Louis, Missouri. We invested in our sisterhood with The Elite Retreat. Our weekend together deepened our relationships. By speaking into each others' businesses and lives, we found love, support, wisdom, and inner harmony.
Investing in supportive communities is an important part of self-care.
In fact, a few weeks ago, I WROTE 10 TIPS FOR MANAGING CHRONIC PAIN. Tip #6 says to reach out to others for mental and emotional support. SUPPORT IS THAT IMPORTANT TO OUR WELLBEING.
Mental and emotional support lightens stress and can lighten your feelings of pain. Best of all, it helps develop an empowering sense of true strength and purpose.
Give yourself the gifts of mental and emotional support.
There are support groups locally and online for just about any life circumstance, from physical illness to grief. There are also support groups to help you reach your goals for fitness, financial wellness, or weight loss.
A mental health professional can help, too. It's smart to get help. It makes life better.
As for myself, I have a dozen best friends! I know am lucky to have these women in my life to support me and guide me. I make sure to continue to nurture these relationships.
Who is supporting you?
If you know who makes you feel supported, spend more time investing in those healthy relationships. If you don't know who these people are, take some time to think about the kind of emotional and mental support you need, then seek that support out.
I know that I need these powerful relationships to keep my business, family, body, and mind together. We all do.
Could you use some support calming your Nervous System? SIGN UP HERE for the Free Self-Care is Healthcare 5-Day Challenge. Dr. Goldi will show you a simple way to feel less tension, stress and anxiety.
Feed