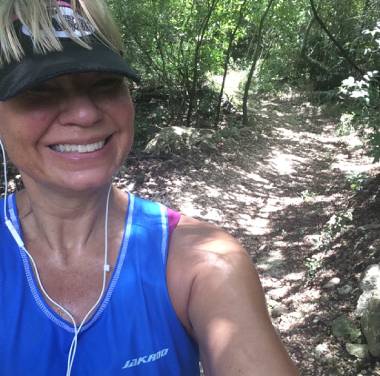 09/07/2016 by GOLDI JACQUES-MAYNES
Transformation Means Committing to Change
Because Our Motto is "Get Out of Pain and Back Into Life" My name is Dawn Weathersbee. I've known Dr. Goldi for years, because of bike racing, and particularly through involvement with Velo Bella about 10 years ago. Currently I create and edit blog, email, and social media content for Golden Chiropractic. As a result of…
As a result of interacting with the GC core belief system of self-care, and learning to translate interactions with patients into a focus on positive life outcomes, I began to get inspired to take responsibility for my overall health, and proactively address my injuries.
Over the last year, I have gained weight and grown grumpy as a result of a knee injury. The knee injury encouraged a secondary issue in my hip, because I wasn't taking proactive steps to remedy the causes of all my knee pain. Turns out, ignoring it doesn't make it go away. 
Learning to Take it One Step at a Time
My first step was to see a chiropractor to get out of pain. I would have seen Dr. Goldi, but I live too far away. I always see her when I'm in Santa Cruz County, because she's the best. It was great to be out of immediate pain, but I also knew I was going to have to work to rebuild my strength and flexibility if I was going to avoid future issues.
I then added restorative and yin yoga, as they didn't require me to put any weight on my leg or hip, but did help me become more flexible and begin to strengthen my core, as well as my weakened leg and hip muscles. After a while, I began to hike, then to trail run. I have moved from restorative yoga into Iyengar and more vigorous flow classes. My attitude has improved, my optimism is elevated, and my waistline is smaller than before. I can see leg muscles where once was a weakened, flabby appendange, it feels so good.
Proud to Be a Part of the Solution
Developing content for Dr. Goldi makes me really connect to staying healthy. When I edit her words about committing to health, I know I can do better, too. So I do better. Dr. Goldi doesn't expect me to follow her advice, she expects me to channel her intent. But, in doing so, I have become healthier under her influence. 
I am proud to have Golden Chiropractic as a client because I know the values of this brand are pure and good. The staff at Golden Chiropractic really care and really want your life to be better, with less pain and more life. 
Feed