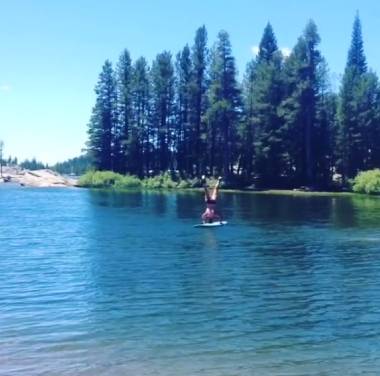 07/27/2016 by GOLDI JACQUES-MAYNES
Summer Fun is Good for You
 I'm learning to stand on my head.   Thanks CrossFit Aptos… …for Re-introducing Me to My Core! Last week the mountains were calling…and after many, many attempts I did do a proper headstand. I'm always telling you to work out, take care of yourself, eat properly.  You know why? Because it just makes time with…
Thanks CrossFit Aptos…
for Re-introducing Me to My Core!
Last week the mountains were calling…and after many, many attempts I did do a proper headstand.
I'm always telling you to work out, take care of yourself, eat properly. 
You know why?
BECAUSE IT JUST MAKES TIME WITH THE KIDS MORE FUN. AND YOU GET TO DO SILLY THINGS, LIKE TRYING TO STAND ON YOUR HEAD, ON A BOARD, ON A LAKE, AND GIGGLE, WITH KIDS. 
Taking care of yourself means creating great memories with those you love. I highly recommend CROSSFIT APTOS if you're ready to get started having fun while you strenghthen your core. Standing on your head is not required.
Feed