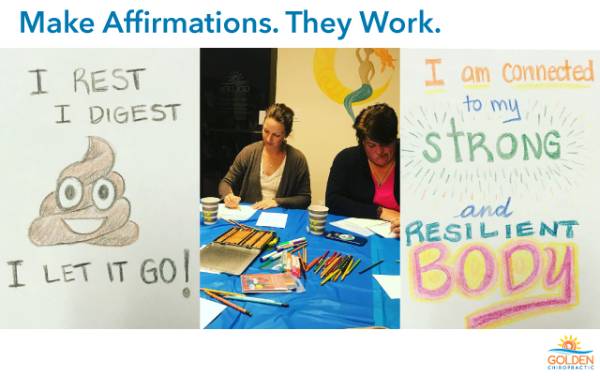 01/16/2020 by GOLDI JACQUES-MAYNES
HEALING AFFIRMATIONS WORK
How do Affirmations Work? Affirmations work by stimulating the areas in our brains that make us more likely to affect positive changes for our health. Just as doing repetitive exercises improves physical health, affirmations improve our mind. Positive affirmation repetitions can change our thinking patterns. Eventually, we begin to think and act in healthier ways.…
How do Affirmations Work?
Affirmations work by stimulating the areas in our brains that make us more likely to affect positive changes for our health.
Just as doing repetitive exercises improves physical health, affirmations improve our mind. Positive affirmation repetitions can change our thinking patterns. Eventually, we begin to think and act in healthier ways.
Affirmations help relieve stress-induced performance problems.
Affirmations have been shown to relieve stress. ONE STUDY showed affirmations boosted the problem-solving abilities of "chronically stressed" people. These stressed-out people performed at the same level as those with low stress.
Affirmations improve mental health.
Affirmations have helped people with low self-esteem, depression, and other mental health conditions. The National Center for Biotechnology Information published an abstract showing affirmation's positive effects on mental health called PREVENTING DEPRESSION IN HIGH-RISK COLLEGE WOMEN: A REPORT OF AN 18-MONTH FOLLOW-UP. The abstract states, "…the intervention group experienced a greater decrease in depressive symptoms and negative thinking…than those in the control group."
We believe in the power of affirmations to improve your health and well-being.
Dr. Goldi credits her continued drive and success in part to positive affirmations. That's why she keeps the healing affirmation cards that her mom, Lynda Salvay Lewit, created hanging in our office. 
We're excited to host our Healing Affirmation Workshop in the new year.
WE INVITE YOU TO JOIN US FOR A WORKSHOP 
where you will create your own unique healing affirmation. During this workshop, we will discuss ways to create an affirmation to heal a health or life issue, as well as ways to achieve and attain optimal health. This workshop will be fun, creative, positive and empowering. Art supplies will be provided.  
Join us, make your healing affirmation cards, and watch your life begin to change for the better. REGISTER NOW.
Feed