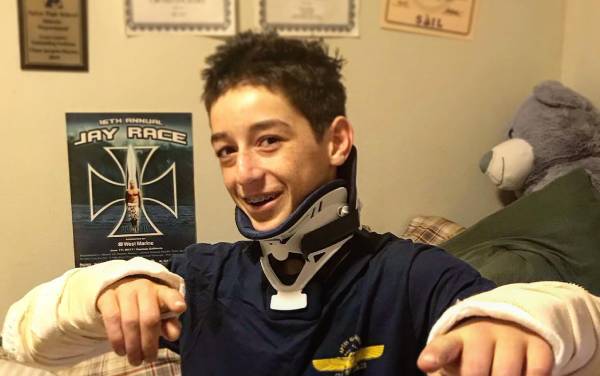 01/30/2020 by LEAVE A COMMENT
GRATITUDE — THE GREAT STRESS RELIEVER
You may have heard, you may not have heard. Word spreads fast in a small community. My son Chase was injured on 1/18/20 while riding his mountain bike up at UCSC. He has a concussion, fractures in both his arms, and a fracture in his skull. After four days in the hospital, he was released…
You may have heard, you may not have heard.
Word spreads fast in a small community. My son Chase was injured on 1/18/20 while riding his mountain bike up at UCSC. He has a concussion, fractures in both his arms, and a fracture in his skull.
After four days in the hospital, he was released home where he is now recovering and healing. Chase's neck remains unstable, so he's wearing a neck collar for several weeks. He can walk and talk. He has just begun feeding himself foods like pizza that are easy for him to put into his mouth.
I am lucky to be able to maintain my regular office hours at the clinic.
Thankfully, my husband is able to be home full-time to take care of Chase.
One of my main tenets here at Golden Chiropractic is that Self-Care is Health Care.
During this stressful time, I have been making time for sunset beach walks. I remember to take deep breaths and reflect on how much I have to be grateful for.
The small things I do to take care of myself allow me to better care for my family and to provide better care for you.
One cannot serve from an empty cup.
I Am Grateful for the Delicious Meals We Have Received From Our Friends. It's Such a Gift to Come Home and Be Present With My Family. Without the Stress of Meal Planning, Shopping, Cooking, and Cleaning, We Are Able to Support Chase's Healing.
I Am Grateful for the Donations to Assist With Medical Bills.
We're humbled by our community's generosity.
I Am Grateful for the Body's Capacity to Heal Itself.
hase makes a little progress every day. Healing happens and it takes time. You can't rush healing.
At This Point, the Best Way to Support Our Family is Through Your Prayers for Chase's Recovery and Support for Our Family Business. You Can Usethe Online Portal or Call During Office Hours to Book an Appointment.
THANK YOU for your healing energy, well-wishes and prayers.
Feed