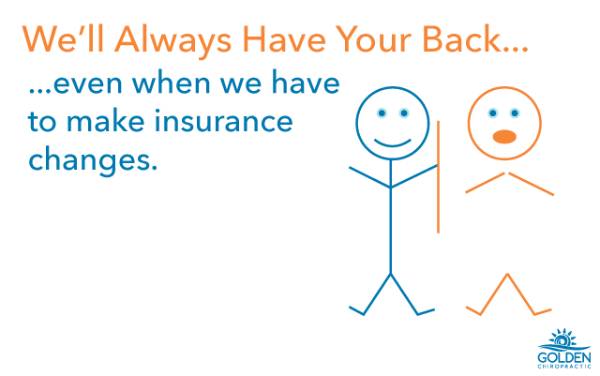 12/06/2019 by GOLDI JACQUES-MAYNES
GOLDEN CHIROPRACTIC'S INSURANCE CHANGES FOR 2020
Like most healthcare providers, we want to focus on what's best for you. Overtime, we have seen a relationship between simplifying our operations and delivering a higher quality of care. To maintain this higher quality of care, we've made a decision about insurance providers. We will improve patient care by limiting the number of insurance…
Like most healthcare providers, we want to focus on what's best for you.
Overtime, we have seen a relationship between simplifying our operations and delivering a higher quality of care. To maintain this higher quality of care, we've made a decision about insurance providers. We will improve patient care by limiting the number of insurance providers we accept.
The only insurance plans we will be accepting as of January 1, 2020 are Medicare and Blue Shield of California.
We want patient healthcare to be front and center.
When there's a third party in the doctor-patient relationship, it affects the quality of care. Some insurance providers limit the amount of visits we can prescribe, others require us to spend hours chasing payments. Many have policies so complex, they take our energy away from patient care.
Each new insurance provider takes more focus away from your health. We focus on your healthcare best when we're not torn in multiple directions by multiple insurance providers.
By making this decision, we are able to develop the best individualized treatment plan for each and every patient.
Why are we keeping Medicare?
At Golden Chiropractic, we take care of multiple generations within one family. We want to continue to serve the seniors in our practice and in our community. We love our elders!
Why are we keeping Blue Shield of California?
Most of our patients participate with Blue Shield of California. We also find Blue Shield of California incredibly easy to work with.
Self-care and optimal patient care sometimes mean making hard decisions.
Just as we advise our patients to do, we are investing in self-care. This decision helps us to avoid burnout. In 2020, we look forward to serving our patients by providing the highest possible quality of chiropractic care.
Feed