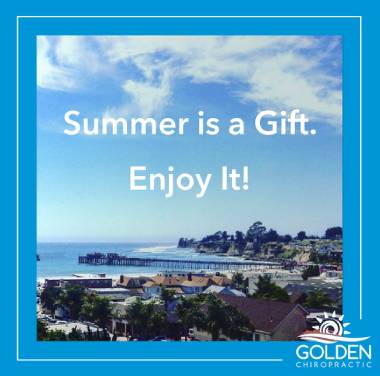 07/13/2016 by GOLDI JACQUES-MAYNES
Dr. Goldi's Summer Self-care Tips
Summer is in full swing, and it's a time of year when we have the opportunity to relax, play outdoors, and generally reconnect to family and ourselves at a more leisurely pace.   Dedicating time to enjoying the long daylight hours and more inviting weather should be a top priority for self-care. Take advantage…
and create opportunities for ease this summer. The rest of the year will go better because you've taken the time to enjoy all nature provides this time of year.
Here are my favorite ways to get the most out of summer.   
Drink lots of water. It's hot out, and you are probably outside playing a lot. It's just a good idea. Your body will thank you for it.
Wear sunscreen. Protect your skin from harmful rays and moisturize. Licensed esthetician,  JODI LAUB says that the use of a broad spectrum sunscreen is important 12 months of the year, and there is a heightened need during the summer months as the sun's strength is at its most aggressive.
Go outside and play. Remember those lazy days of summer as a kid? When you just had hours of playing until dark? Get lost in your garden. Go for a hike. Grab some friends and have a bonfire at the beach.
Take a vacation. Or just plan one! Vacations are a chance to take a break from your usual routine, relax, travel and spend time with family. Research shows that the simple act of planning a vacation can elevate happiness.
Read a book, draw or journal outside. Sit under an umbrella or swing on a hammock. It's like taking a mini-vacation during your day.
Jump in the water! Going for a swim, a paddle or a float down a lazy river is a great way to beat the heat.
Host a BBQ with your favorite relatives or invite your neighbors over.
Lay on the grass and look at the clouds. Sometimes just laying under a tree and looking up at the sky is just what you need to relax.
Buy local fresh in-season produce. Get to know your farmer by joining a local CSA (my favorite is  LIVE EARTH FARMS) or shopping at the  FARMER'S MARKET (Cabrillo market).
Have a campfire, roast marshmallows and make s'mores. Treat yourself to a sweet treat.
Feed