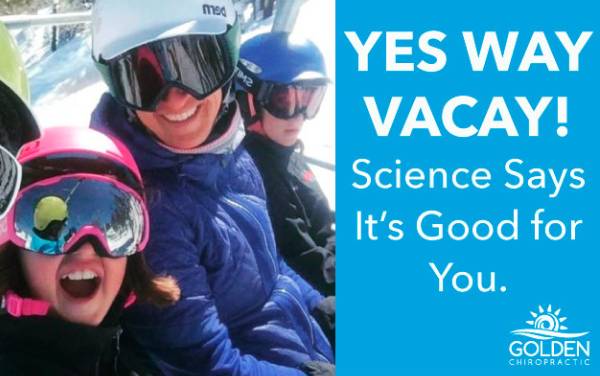 04/12/2018 by GOLDI JACQUES-MAYNES
Do Vacations Make You Healthier and Happier? Science Says, "yes!"
Having just returned from spring break in Bear Valley with my kids, I have to say, "Yes! We NEED vacations!" Away from daily stress, being completely present with my family, skiing – it felt good. Many in my community agree that vacation is good for you, too. When I asked my Facebook friends,  "What are the health benefits of taking a vacation?" many responded with their beliefs about taking planned breaks:
"Decreased cortisol levels"
"Less stress! More breath."
"Lower blood pressure! More sleep! Adrenaline highs & heart bursting with joy!"
"You get to practice retirement."
"A chance to get away from sitting and staring at a computer all day. Mobility?"
"Slowing down and reconnecting. It does wonders for my mental health."
"I call it my "sanity break" because I don't always do fun stuff, often times it's just not having to deal with work and commute and deadlines, etc."
"Freeing the mind from the mundane."
"Stamping a bigger memory map on your brain rather than the daily grind!"
We All Long to Take Breaks From Our Daily Lives, It Seems.
It turns out that science supports our desire to get away. Vacation is good for us.
According to A 2010 STUDY published in the journal Applied Research in Quality of Life, just planning or anticipating your trip can make you happier than actually taking it.
The bestselling book, BLUE MIND: explains how being near, in, on, or under water can make you happier, healthier, more connected, and better at what you do. Scientific evidence shows being close to bodies of water promotes mental health and happiness. That's probably why so many of us vacation near the ocean.
Even if you haven't had a chance to get away for awhile, you can still benefit from creating daily or weekly mini-vacations. Plan to mix up your schedule a bit. Get out in nature, near water. Join a new activity. APRIL IS MOVE MORE MONTH – join the movement, or start a Move More group yourself.
STRESS CREATES DISHARMONY IN OUR BODIES. Want to be happier, healthier, and more connected? Schedule some time for relaxation and movement. Even if you can't go on vacation, you can take mini-vacations. Start today.
Feed