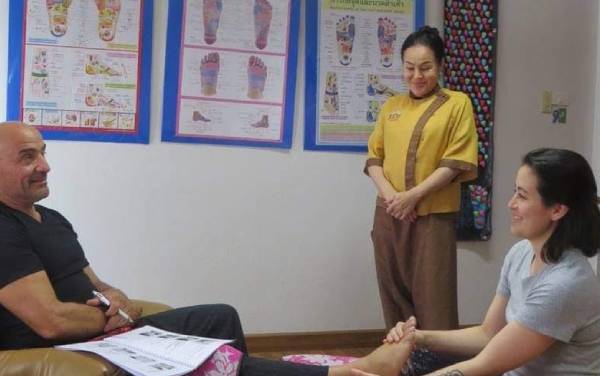 02/13/2020 by GOLDI JACQUES-MAYNES
Darlene is Bringing Her Massage Skills Back to Golden Chiropractic
Who doesn't love a come-back? I know I do, especially when it's the amazing Darlene Ocampo who is coming back to Golden Chiropractic. Darlene worked with me at the Golden Chiropractic clinic from 2014-2016. She left us for a while to grow in her massage skills, knowledge, and experience. During that time, Darlene — provided…
Who doesn't love a come-back?
I know I do, especially when it's the amazing Darlene Ocampo who is coming back to Golden Chiropractic.
Darlene worked with me at the Golden Chiropractic clinic from 2014-2016. She left us for a while to grow in her massage skills, knowledge, and experience. During that time, Darlene —
provided massage for SAN FRANCISCO 49ER PLAYERS during training camp, 2016 
grew her skill set working in spas in Monterey and Carmel from 2016-2019
became a certified advanced practitioner and teacher at the INTERNATIONAL THAI MASSAGE SCHOOL in 2019
She's a perfect fit for Golden Chiropractic.
Darlene is great with people. She has the skills to assess your body's needs and choose the best approach for you. She was the perfect fit for Golden Chiropractic back in 2014, and an even more perfect fit now. Can you tell how excited I am to have her back?
Darlene is well-versed in many massage therapy modalities —
Swedish
Deep tissue
Myofascial release
Aromatherapy
Thai massage
Trigger point therapy
Spa treatments
Sports massage
Chair massage 
If you want to book a massage appointment with Darlene, she's open for business in our clinic starting on February 14th. 
This is a self-pay service only. We cannot accept insurance for Massage. 
Rates:
50 min for $100
80 min for $150
USE THE BOOKING LINK BELOW TO SCHEDULE YOUR MASSAGE WITH DARLENE. 
Feed