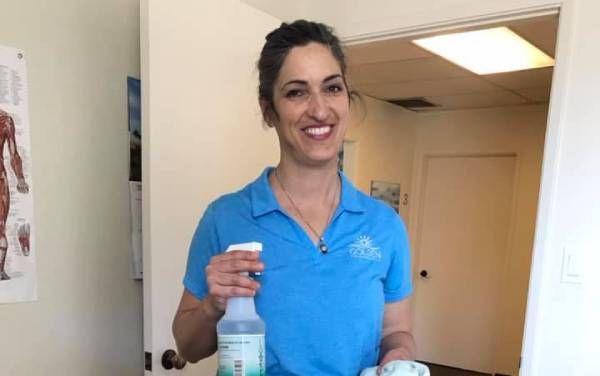 03/15/2020 by GOLDI JACQUES-MAYNES
CONCERNED ABOUT CORONAVIRUS? WE'VE GOT YOUR BACK!
With the current news of possible spread of the corona virus, we know that you have a lot of questions on your mind. As a chiropractic patient, you know that stress negatively impacts the nervous system. My intention with this newsletter is help alleviate some concerns you may have. 
We've always prioritized your health and well-being above all else. We're here to support you. We are closely following the guidelines set by the CDC and WHO to keep both our employees and patients safe and will continue to monitor and adjust our protocols as necessary. 
During times of uncertainty or stress, it's important to prioritize self-care. We are here to support both your mental and physical health. For the health and safety of our community during this time, we ask that you stay home if you are feeling unwell, have recently travelled abroad, or have been in contact with someone who is unwell. 
SO LONG AS DR. GOLDI IS FEELING AWESOME, WE WILL REMAIN OPEN FOR BUSINESS.
WE'VE BEEN PREPARED
Our standard cleaning protocols include only the best hospital-grade professional cleaning solutions that are 99.99% effective in destroying harmful germs, viruses, and bacteria. WE CLEAN AND DISINFECT OUR TREATMENT ROOMS BEFORE AND AFTER EVERY SERVICE. 
WE'RE INVESTING EVEN MORE IN YOUR HEALTH.
Beyond our standard protocols, we're increasing our investment in your health and wellness during this time. WE'VE PURCHASED AIR PURIFIERS THAT WILL BE INSTALLED IN OUR TREATMENT ROOMS. 
CHIROPRACTIC AND IMMUNITY. 
While there is not sufficient documented literature to support chiropractic care boosting the immune system, I have observed the effect of chiropractic adjustments on the immune system in clinical practice for 15 years and found that there does appear to be a positive effect.   
Of course, in the event of a quarantine, you should follow the guidelines and regulation set forth by our county, state and federal guidelines. SANTA CRUZ COUNTRY PUBLIC HEALTH DEPARTMENT has up-to-date information and is a reliable source of information. If a quarantine goes into effect, please know that our office staff will contact you to reschedule existing appointments scheduled for during the quarantine period. 
We will continue to monitor the situation and will take appropriate action as directed by government authorities. Please continue to take the following precautions as advised by the CDC.
– Avoid close contact with people who are sick.
– Avoid touching your eyes, nose, and mouth.
– Stay home if you are sick.
– Cover your cough or sneeze with a tissue, then throw the tissue in the trash.
– Wash your hands often with soap and water for at least 20 seconds, especially after going to the bathroom; before eating; and after blowing your nose, coughing, or sneezing. If soap and water are not readily available, use an alcohol-based hand sanitizer with at least 60% alcohol. Always wash hands with soap and water if hands are visibly dirty.
Before I go, I want to mention just a couple more things.  I KNOW THAT YOU KNOW THAT PANICKING DURING THIS TIME WILL NOT LEAD TO A POSITIVE OUTCOME, BUT IT BEARS REPEATING: KEEP CALM.  Prayer or meditation each day is one of the most impactful things you can do for your health, especially right now. It's not too late to add vitamins and supplements to your daily health routine.  If you're looking for a trusted source, please reply to this email and our office staff will send you our suggestions.   
Thanks so much for avoiding the hysteria, remaining vigilant, and proceeding with care. We are hopeful that this situation will come to an end in a short period of time. In the meanwhile, please know that Golden Chiro remains committed to our Golden Chiro family. 
The front desk staff is happy to process fees for services on the card we have on file for you, if you choose, so that you can avoid extra handling of your credit card.
We do have a 24 hour cancellation policy. Please be kind and let us know if you can't make it for your scheduled appointment. Our staff is happy to help you reschedule your appointment if you are ill.
xoxo, Dr. Goldi JM
Could you use some support calming your Nervous System? SIGN UP HERE for the Free Self-Care is Healthcare 5-Day Challenge. Dr. Goldi will show you a simple way to feel less tension, stress and anxiety.
Feed