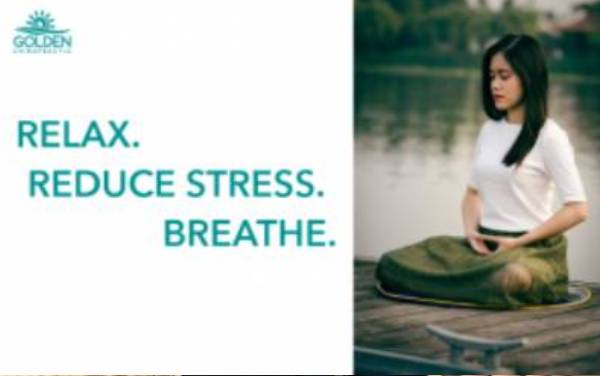 03/18/2020 by GOLDI JACQUES-MAYNES
CALM YOUR NERVOUS SYSTEM FOR BETTER HEALTH
"KEEP CALM" is generally good advice, but sometimes it's nearly impossible to stay calm, especially in times of crisis and emergency. Our daily lives already place stress on us , and when the outside world adds to that stress, we can suffer from anxiety, depression, and other stress-related illnesses like headaches and heart problems. Stress…
WHILE WE CAN'T CONTROL THE WORLD AROUND US, WE CAN TAKE ACTION TO BECOME MORE CALM.
My go-to technique is to practice deep-breathing exercises. These simple, do-anywhere exercises have a huge impact on your health, and it all begins with your DIAPHRAGM. 
What is diaphragmatic breathing?
I call diaphragmatic breathing "BELLY BREATHING." Belly breathing is an exercise that helps strengthen your diaphragm, a muscle that helps you breathe. Since our breath is a key to our health and wellbeing, it's good to keep this muscle strong. 
DIAPHRAGMATIC BREATHING ALSO HAS BENEFITS FOR YOUR WHOLE BODY. 
It helps lower stress levels, reduce blood pressure, and regulate certain bodily processes. Diaphragmatic breathing contributes to both mental and physical health. 
How does diaphragmatic breathing help with stress?
Stress can keep your immune system from fully functioning. Long-term stress, from things like traffic, work, and relationship problems, can lead to anxiety or depression. Deep breathing exercises help reduce stress' effect on your nervous system and your immune system. Taking mini-breaks to breathe and get centered helps keep your immune system strong.
How does diaphragmatic breathing calm my nervous system?
Breathing is part of your autonomic nervous system (ANS). The ANS is running our body processes, like —
Digestion
Breath rate
Metabolism
Body temperature
Blood pressure
Stress disrupts these systems by putting our bodies into FIGHT OR FLIGHT MODE . Belly breathing helps take us out of that mode, and back to a nervous system that "operates as usual." 
BELLY BREATHING CAN LOWER YOUR HEART RATE, REGULATE YOUR BLOOD PRESSURE, AND HELP YOU RELAX.
stress hormone, called cortisol, that is released into your body. 
Overexposure to cortisol can disrupt almost all your body's processes, which increases your risk of many health problems — 
Anxiety
Depression
Digestive problems
Headaches
Heart disease
Sleep problems
Weight gain
Memory and concentration problems
What are the other health benefits of diaphragmatic breathing?
Belly breathing is SOOO good for you. It has many, many health benefits, including —
Helping you relax
Coping with the symptoms of post-traumatic stress disorder (PTSD)
Improving your core muscle stability
Improving your body's ability to sustain intense activity
Lowering your chances of muscle injury
Slowing your rate of breathing so you save energy in trying times
How do I practice diaphragmatic breathing?
I've developed two levels for practicing belly breathing. You can read up on both of them AT THIS LINK. 
The bottom line is that belly breathing is good for you. It eases stress, something we have in huge supply these days. Feeling stressed? Take time for some deep, diaphragm-expanding breaths. Your nervous system will thank you by stopping your stress response. Breathe for your health! 
—–
Could you use some support calming your Nervous System? SIGN UP HERE for the Free Self-Care is Healthcare 5-Day Challenge. Dr. Goldi will show you a simple way to feel less tension, stress and anxiety.
Feed