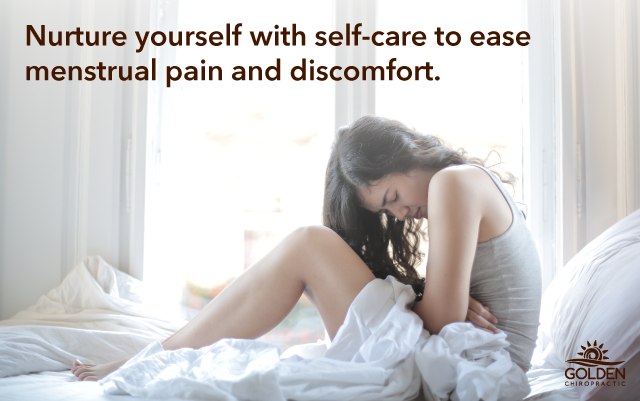 06/25/2020 by GOLDI JACQUES-MAYNES
7 Remedies for Menstrual Pain and Discomfort
Many women have low back and abdominal pain during their period. Primary Dysmenorrhea, the medical term for menstrual cramps, is very common. Cramps can be disabling for women who also experience headaches, nausea, vomiting and diarrhea. This can really add to the stress we feel when trying to keep our lives running.   While it's tempting…
Many women have low back and abdominal pain during their period. Primary Dysmenorrhea, the medical term for menstrual cramps, is very common. Cramps can be disabling for women who also experience headaches, nausea, vomiting and diarrhea. This can really add to the stress we feel when trying to keep our lives running.  
While it's tempting to keep going and just force ourselves through it, doing the opposite is actually better for you. As in all areas of our lives, taking time for self-care makes us more effective in the long run. 
Why do periods cause pain and discomfort?
During your period, your uterus contracts and relaxes to help shed the built-up ENDOMETRIAL LINING. This contraction is the cramping you feel. Substances called PROSTAGLANDINS, which are involved in pain and inflammation, are what trigger the uterine muscle contractions. Higher levels of prostaglandins often cause more painful cramps.
How can you ease cramps?

For mild to moderate cramps, I advise these 7 self-care remedies —
Apply heat.

Heat works magic to relax tense muscles. A 2012 STUDY found that a heat patch of 104°F (40°C)  was as effective as ibuprofen. A hot soak in a bathtub, a hot water bottle, or a heating pad can all help.
You can even make your own heating pad.

Cut and sew together two pieces of fabric, leaving a hole at the top.
Fill with uncooked rice or barley. Add a few sprigs of dried lavender and sew up the hole.
Microwave for a few minutes to the desired temperature. Don't overheat!
Let cool, if necessary. Or wrap your homemade pad in a towel to reduce heat transfer. Reuse as necessary.

2. Use massage techniques for relief.

Massage techniques and tools can relieve the symptoms of period pain.
Self-massage.

Massaging your abdomen can relax the pelvic muscles and reduce cramping.
Essential oils can help.

Lavender oil is known to decrease pain and discomfort
Cinnamon is recognized to reduce inflammation
A 2012 STUDY, showed a combination of lavender, sage, and marjoram oils eased pain and discomfort during menstruation
A 2013 STUDY combining cinnamon, clove, rose, and lavender found that women using these essential oils reported less pain and bleeding



Use massage tools.

I often lay face down on a MIRACLE BALL to release uterine cramps. Bending my knee to 90 degrees and moving my leg back and forth helps, too. If you don't have a Miracle Ball, you could try tennis balls or lacrosse balls, if they aren't too hard for your preference.
3. Lightly exercise to feel better.

Many of us have used the excuse of being on our period to get out of gym class in high school. But exercising on your period is actually one of the best things you can do. Endorphins are released after light exercise. Since endorphins help us deal with stress and reduce pain, it makes sense that they also help regulate your mood and reduce cramping.
4. Drink water to reduce bloating.

Drinking water helps combat bloating. Water helps flush toxins from your body and helps reduce headaches and cramps.
5. Chill more, do less.

Our society glorifies being busy all the time and doing all the things. It's ok to rest, take some time off, and do less for a few days. Your world won't crumble if you chill out until you're in less pain. Allow yourself time now for that hot bath we talked about earlier.
6. Have an orgasm.

Probably not the recommendation you expected — but orgasms work. An orgasm is a powerful contraction of the uterus. It not only feels really good, but also helps the uterus shed the endometrial lining and relax. The feel-good endorphins released during orgasm help you feel better and lift your mood, too.
7. Get adjusted.

Here's where your chiropractor comes in. Many women feel immediate relief of their menstrual cramps when their pelvis is in alignment. Wth chiropractic adjustment, endorphins are released and your nervous system is relaxed.
Self-care is the key.

In case you didn't notice, the 7 remedies listed above for menstrual pain and discomfort require nurturing yourself. Relax your muscles, relax your mind, breathe, take it slow, even as you exercise. When it comes to managing your life during your period, self-care is the best healthcare.
Feed