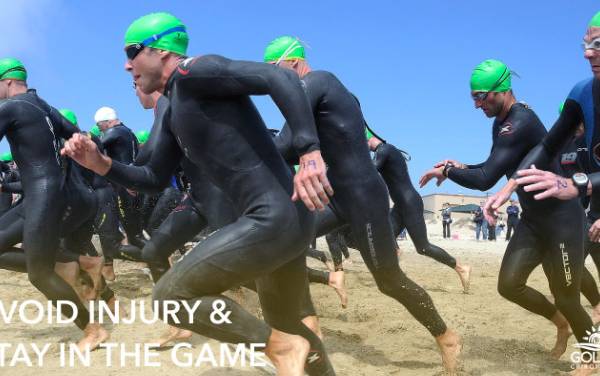 06/26/2019 by DUSTIN MARLOW
5 COMMON TRIATHLETE INJURIES AND HOW TO PREVENT THEM
Here in Santa Cruz County we have a great climate for Triathlon training. We can run at Big Basin, Nisene Marks, and West Cliff Drive. We can swim around the Wharf in Capitola. We can bike in many beautiful places — on dirt or on pavement.  Triathletes need to train a lot, and there are…
Here in Santa Cruz County we have a great climate for Triathlon training. We can run at Big Basin, Nisene Marks, and West Cliff Drive. We can swim around the Wharf in Capitola. We can bike in many beautiful places — on dirt or on pavement. 
Triathletes need to train a lot, and there are lots of places to train. But it's not just training. It's an entire lifestyle — what you eat, what you wear, how you recover, where you travel, who you hang out with — that gets disrupted by a training injury. 
The nature of training implies a significant degree of repetitive motion. This is where we find ourselves most at risk for injury. The 5 most common injuries seen in Triathletes are REPETITIVE MOTION INJURIES. They include TENDONITIS, MUSCULAR INJURIES, and even FRACTURES.
An injury when you're a triathlete means your life is on hold. You don't want your whole life to go on hold, so take 5 minutes now to learn about the 5 most common injuries for triathletes, and what you can do about them.
The 5 Most Common Injuries for Triathletes
1. Rotator Cuff Tendonitis
What causes rotator cuff tendonitis?
This triathlete injury is caused by the strain placed on the shoulder while swimming. As we reach over head, we place our shoulders in a stretched state. After we contract to propel ourselves forward, we continually strain the shoulder. Done several hundred times, it leads to a condition known as tendonitis, which is inflammation of a tendon.
If you are experiencing shoulder pain during your training, you may be experiencing tendonitis in a ROTATOR CUFF MUSCLE.
How can you prevent and treat rotator cuff tendonitis?
Luckily several steps can be taken to improve your shoulder function, reduce strain placed on your shoulder, and heal.
If you are not yet experiencing pain in your shoulder, taking these steps could save you from potential injury that takes you out of the race—
Chiropractic adjustment to the shoulder
Resistance exercise to promote muscular balance between your chest and your back muscles
Taping for support
Pre- and post-exercise stretching to rehab and prevent shoulder injury.
2. Iliotibial Band Syndrome
What causes iliotibial band syndrome?
The ILIOTIBIAL BAND (IT Band) is a sheet of FASCIA that runs from the hip to the knee on the outside of your leg. When it becomes tight, it generates lots of pain. It frequently prevents people from running or cycling.
Muscles that connect to the IT band contract to stabilize the hip and the knee. A sharp increase in mileage irritates the muscles and fascia. This causes significant friction and adhesions.
How can you prevent and treat iliotibial band syndrome?
Time spent on a foam roller breaking down adhesions and stretching tissues is one of the ways to work on an irritated IT band. Exercises that strengthen the glutes and hip abductors stabilize the hip and take some of the stress off of the IT band.
3. Achilles Tendonitis
What causes Achilles tendonitis?
Pain in the calves and in the back of the ankle are an indicator that you may have Achilles tendonitis. This is an inflammation of the ACHILLES TENDON, which is responsible for propelling you forward every step you take. You'll see redness and swelling, and have pain in your ankle. This is a pretty good indicator that you are doing too much and running too fast.
How can you prevent and treat Achilles tendonitis?
Massage to the calf muscles and bottoms of the feet help to relax muscles. Stretch before and after exercise. Tape to support the ankle. Allow enough time to rest. 
Ice, tape, adjustment, and rest are all important when healing from Achilles tendonitis. Icing when pain is acute after a run will allow the tendon to heal and prevent further inflammation. 
4. Patellar Tendonitis
What causes patellar tendonitis?
Pain in the knee just below your kneecap is one of the signs of patellar tendonitis. The large quadricep muscles place a lot of tension on the front of the knee. Activities like running and biking train the quads, placing tremendous tension on the knee. The most common cause of patellar tendonitis is improper bike fit. If your seat is too high or low, or your bike is too large or small, you risk placing unnecessary stress on your knees.
How can you prevent and treat patellar tendonitis?
One of the best ways to combat this injury is to get a proper bike fit. You may also roll out your quads on a foam roller. Stretch properly. Perform resistance exercises that strengthen the quads, hamstrings, glutes, and calves. Avoid overtraining and rest appropriately to avoid patellar tendonitis. 
5. Stress Fractures
What causes stress fractures?
Stress placed on your bones and muscles during training can place excessive strain on your body — especially if you don't allow proper time for recovery and adaptation to your new exercise regimen.
When this happens, your bones will begin to form microscopic tears. These tiny fractures create pain in areas that take frequent repetitive stress. Areas which frequently obtain stress fractures include the feet, shins, and hips.
How can you prevent and treat stress fractures?
You will need to take some time off from training, usually 6 to 8 weeks, to allow your fracture to heal. Proper nutrition can help to avoid stress fractures — make sure to get plenty of vitamin D and calcium to promote good bone health.
Begin with a light amount of activity and slowly increase mileage. A stress fracture is commonly caused by increasing activity and mileage too quickly. Add activity and mileage incrementally to avoid injury.
Train Smarter, Not Harder
Triathlons require training with repetitive motion. Being a competitive triathlete means increasing intensity to get stronger and faster. Training opens us up to risk for injury, so we need to be smart about how we train.
You can avoid the 5 most common injuries with a smart training plan. If you're unsure where to begin a new plan, or you're feeling some pain from your new training regimen, MAKE AN APPOINTMENT. We'll help you figure out how to avoid injury and train smarter.
Feed