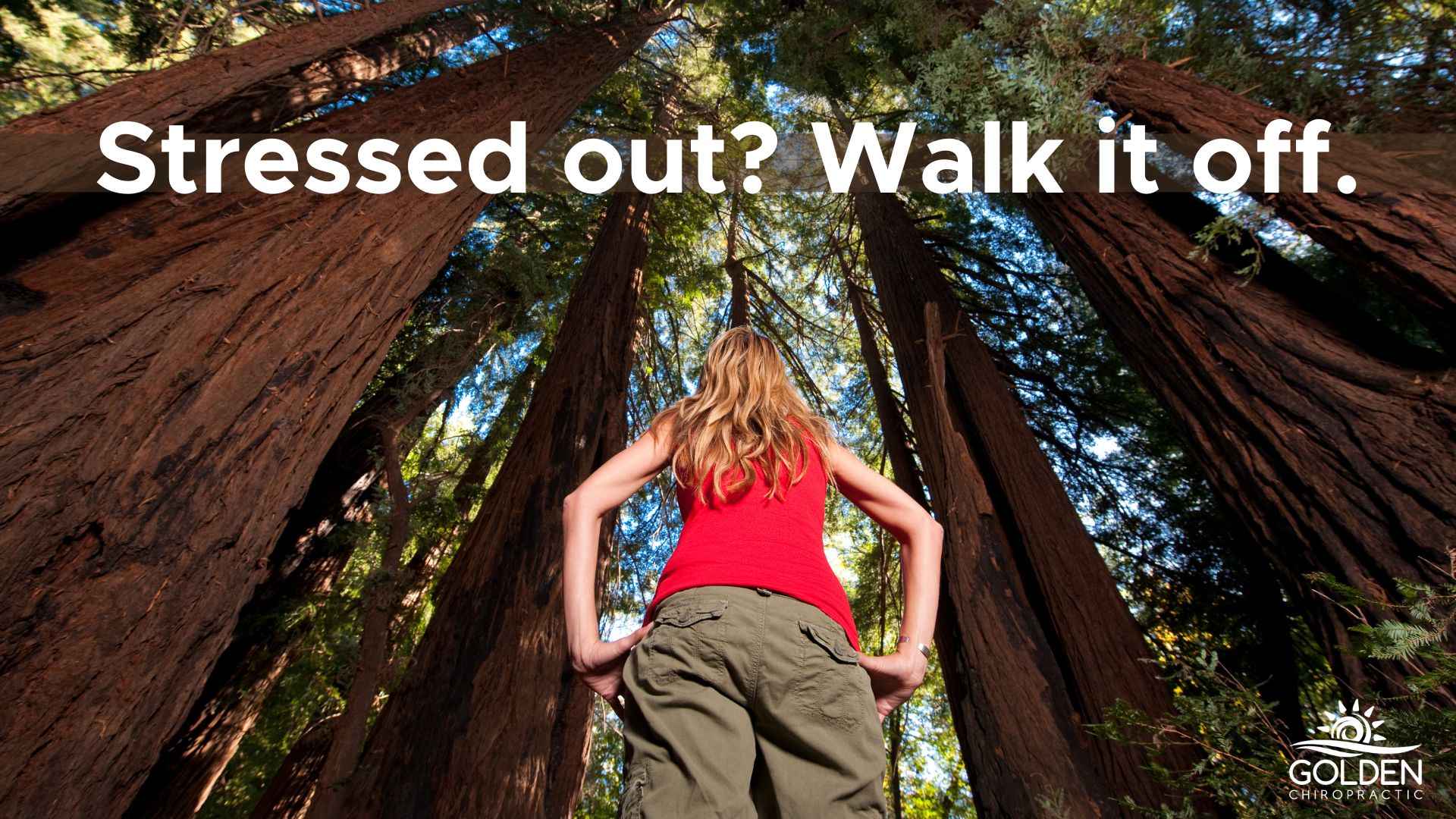 05/03/2022 by Dr. Goldi Jacques-Maynes
10 Big Benefits of Walking
My patients, and my staff, often hear me say, "Motion is lotion." It's one of my favorite sayings, because movement is one of the key ways you can take care of yourself. Your body is simply more healthy when you move — that's why you should prioritize your health by taking a walk instead of some other less-than-healthy stress-reliever (sugar and alcohol, I'm looking at you). 

You already know that you need to exercise, but did you know that healthy exercise doesn't have to be strenuous and time-consuming? You don't need to go to the gym everyday for two hours, ride your bike for 20 miles, or swim 60 laps in the pool to get benefits. These activities are all great for you, but sometimes you just can't put in the time or energy. 

When you're pressed for time or lacking energy, walking is a small act of self-care that you can fit in pretty easily — no matter where you are. Walking is an easy way to care for yourself, and its health benefits are physical, mental and emotional. 
1. Walking is good for your foot health. 
Walking helps you improve and maintain stability. By building stronger muscles in your ankles, legs and feet, walking keeps you moving — and standing upright!
2. Walking reduces the risk of osteoporosis.
Walking is weight bearing, and creates the kind of stress your bones need to make new bone and stay strong. 
3. Walking reduces the risk of heart disease.
Walking improves your blood pressure, which helps prevent coronary disease.
4. Walking helps prevent breast and colon cancer.
Physical activity improves antioxidant levels and DNA repair. It can also reduce inflammation and increase your immune function. 
5. Walking helps prevent Type 2 diabetes. 
Moderate exercise like walking raises your heart beat and makes you breathe a bit harder. This makes your muscles use more glucose (blood sugar), which lowers your blood sugar levels over time.
6. Walking helps you live a long life.
Research has shown that you could gain two hours of life for each hour that you exercise regularly. 
7. Walking outside provides nourishment.
When you walk outside, you breathe in the fresh air and absorb Vitamin D from the sun.
8. Walking lowers your risk of obesity.
Walking helps you burn calories. 30 minutes of regular brisk walking burns about 150 more calories a day.
9. Walking is a stress-reducing mood-booster.
Walking positively affects your central nervous response system. When you go for a walk, you calm your nerves, and that makes you feel less stressed.
10. Walking with positive people boosts your mental health.
Adding positive social interactions with your walks can improve your mood. It also helps prevent depression and improves your self-esteem. 
Pro Tip when you're strapped for time: Set a 10-minute timer.
Walk in one direction for 10 min. Then walk 10 minutes back.
Sometimes I'll do this a few times a day when I'm working on a big project. It's how I got thru grad school.

If I'm struggling to solve a problem, a 20-minute walk is usually enough for me to come back to it with a solution or renewed energy.
Ready to take a walk with some positive people?
Join the Golden Chiro docs the 3rd Saturday of each month. Dr. Michaela and I have joined the Walk with a Doc program, along with Dr. Tea Nguyen DPM of Pacific Point Podiatry, Dr. Lonna Larsh, MD of Roots of Health, and Carmen McIntyre, L.Ac. of Carmen McIntyre Acupuncture. Come out, take a walk, and talk with doctors about your health. 
Our first walk is on Saturday May 21, 2022, and walks will continue the 3rd Saturday of the month for the rest of the year. Meet us at Fleet Feet Aptos, 7960 Soquel Drive, at 8am. We're excited to spend time with you walking in the beautiful outdoors. 
Are you in pain that's keeping you from walking or moving beneficially?
Make an appointment here. We'll get you back out there. 
Feed