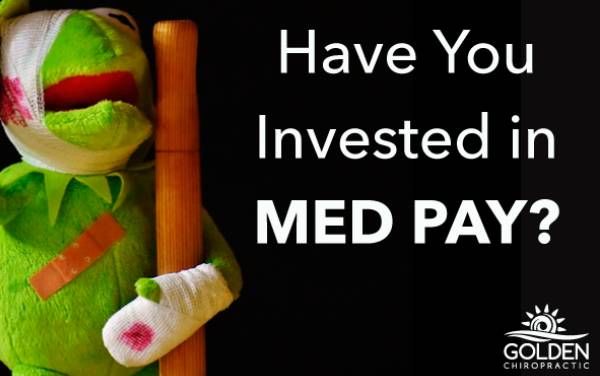 05/03/2018 by GOLDI JACQUES-MAYNES
Save Money, Time, and Energy With Med Pay
Many people don't have Med Pay and don't hear about it until we tell them what it is. I often find myself encouraging my patients to get Med Pay coverage AFTER they are in a car accident. It doesn't do you any good to get Med Pay after your accident. Now is the time to consider investing in Med Pay BEFORE you need it...
What is Med Pay?
"Medical Payments to Others," also known as "Med Pay," covers all passengers in your vehicle. That means your passenger's medical payments are taken care of if they are injured in an accident in your car. So are YOU!

It doesn't matter who's at fault in the accident, you and your passengers will be covered, generally from $1000-$5000.

Med Pay coverage only covers injuries from auto accidents. Med Pay is not health insurance.
Who Should Get Med Pay?
Anyone who drives a car. But especially if you drive other people around – carpooling, driving kids to events, driving elderly parents. To be safe, anyone who ever drives another person in their vehicle should consider Med Pay.  
What Are the Benefits of Med Pay?
Many healthcare providers don't bill THIRD PARTY INSURANCE COMPANIES , and don't acceptPERSONAL INJURY LIENS. They do, often, bill personal health insurance companies and car insurance companies. This means you spend less time talking with insurance companies. Med Pay lessens the stress of the financial aspects of car accidents and helps you keep positive relationships with your BFF who was injured in your car.
Most health insurance requires deductibles and co-pays. There are no deductibles or coinsurance requirements with Med Pay. Coverage starts paying your expenses pretty quickly. Med Pay also covers any amounts not covered by your health insurance, like massage and acupuncture.
Med Pay is pretty affordable. As an addition to your car insurance, payments average $8 a month in California.
What is the Golden Chiropractic Policy With Med Pay?
We take it! We accept Med Pay and personal insurance. Like many other healthcare providers, we do not accept personal injury liens or third party payments.
BE SURE YOU'RE COVERED IN THE EVENT OF AUTO INJURIES – LOOK INTO MED PAY COVERAGE WITH YOUR CAR INSURANCE COMPANY.
Feed