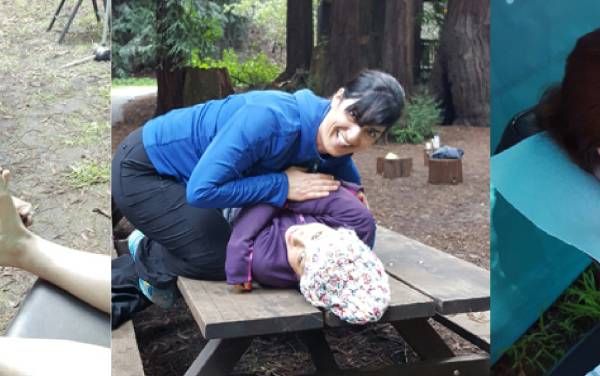 03/15/2016 by GOLDI JACQUES-MAYNES
Runderlust
We had five providers working full tilt for two hours, offering all kinds of body work, care, and relaxation…plus there was beer provided by a new brewery in Monterey. 
Participants in the retreat enjoyed trail running in the forest of Nisene Marks with practical clinics, informative discussions and free time for quiet contemplation or fun socialization.
My intern, Noel Frederickson from Palmer College of Chiropractic, and I provided chiropractic treatments for conditions ranging from chronic low back pain, neck stiffness and knee injuries. One woman suffered from chronic post-surgical ankle mobility issues. I consulted with her about her health history, surgical and physical therapy treatments. I evaluated the active range of motion and passive range of motion of her ankle as well as palpated the ankle and foot joint mobility. I performed some soft tissue mobilization using GRASTON TECHNIQUE

and then adjusted her ankle and feet using an ACTIVATOR adjusting instrument. She felt immediate pain relief and her ankle range of motion was restored to nearly the same as the non-injured ankle. I felt so happy being able to help her!  
As part of a good post-run stretching routine, Noel and I both recommended the KNEE-CHEST stretch to several folks to help stretch out the back, hamstrings, glutes and hip flexors.
The cat's out of the bag, we love our work!
Feed