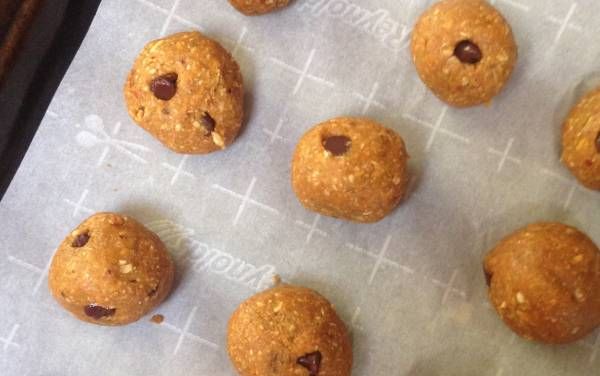 11/29/2016 by GOLDI JACQUES-MAYNES
Protein Rich Pumpkin Spice Snack Balls
'Tis the Season for Pumpkin Spice Everything. I had to whip up a quick snack for my daughter's Girl Scout Troop meeting. I was looking for a protein rich healthy snack with a touch of sweetness for the girls. I chose this snack because it gives you quick energy and sustains you for a longer…
I chose this snack because IT GIVES YOU QUICK ENERGY AND SUSTAINS YOU FOR A LONGER PERIOD OF TIME with the addition of the peanut butter and nuts. Perfect for on the go athletes and on the go kids. I hope the girls like it – I know I do! 
DR. GOLDI'S PUMPKIN SPICE SNACK BALLS RECIPE
1 cup pumpkin puree (I used left over roasted butternut squash)
3 cups oats
1 cup peanut butter
1 cup of chopped nuts. (I used 1/2 pumpkin roasted pumpkin seeds, 1/4 cup pecans, 1/4 cup almonds)
1/2 tsp cinnamon
1/2 tsp pumpkin pie spice
1 tsp vanilla extract
1 cup chocolate chips
1/2 cup honey
1/2 cup maple syrup
Blend in a food processor until smooth. Roll into balls and freeze. Store in airtight container for up to one week in the fridge.
Feed