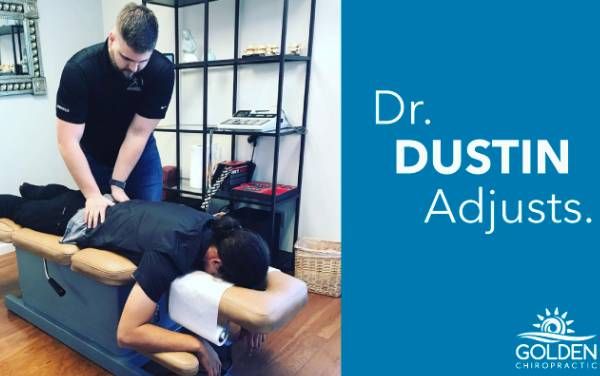 12/11/2018 by GOLDI JACQUES-MAYNES
Dr. Dustin Marlow Joins Golden Chiropractic Staff
We are thrilled to add Dr. Dustin to the Golden Chiropractic staff! Trained the Golden Chiropractic Way Dr. Dustin has been training under Dr. Goldi for a while. He has a deep understanding of her methods and is a skilled chiropractor in his own right.   Dr Goldi says, "Dustin has been been taking care…
We are thrilled to add Dr. Dustin to the Golden Chiropractic staff!
Trained the Golden Chiropractic Way
Dr. Dustin has been training under Dr. Goldi for a while. He has a deep understanding of her methods and is a skilled chiropractor in his own right.  

Dr Goldi says, "Dustin has been been taking care of my back. I feel amazing and I trust him. If my schedule is full, our patients can feel confident in scheduling with him."
Same Quality of Care, Delivered Sooner
We get a lot of calls for people in urgent need of chiropractic care. We want to be able to help them as soon as possible. With the addition of Dr. Dustin, we can see new and existing patients sooner when they are having issues.
Dr. Dustin is available to see patients same day, where Dr. Goldi has a bit of a waitlist. Dr. Goldi and Dr. Dustin will will be working the same hours.
We're confident Dr. Dustin will be a valuable addition to our staff.
Feed