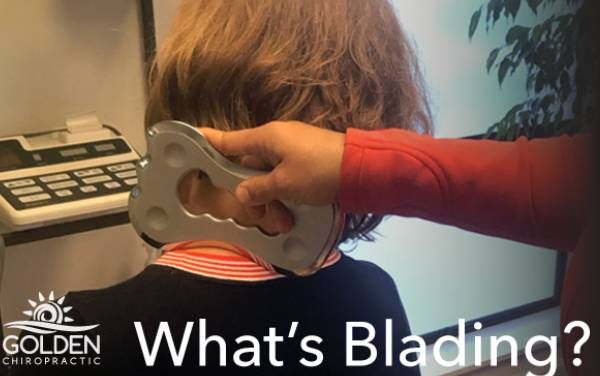 10/04/2017 by GOLDI JACQUES-MAYNES
Don't Be Afraid of the Name – Blading Makes You Feel Great
Soft Tissue Injuries Hold You Back Soft tissue injuries can be debilitating and frustrating. You tend to feel crummy and achy in your muscles. Active people get irritable from moving less. For athletes, frustration occurs when sports performance is down. Athletes and Soft Tissue Injuries Lately athletes with chronic hip pain and tightness have been…
Soft Tissue Injuries Hold You Back
Soft tissue injuries can be debilitating and frustrating. You tend to feel crummy and achy in your muscles. Active people get irritable from moving less. For athletes, frustration occurs when sports performance is down.
Athletes and Soft Tissue Injuries
Lately athletes with chronic hip pain and tightness have been coming to Golden Chiropractic. These patients feel pain with running, cycling, and walking for more than one mile.
 
We often see athletes with chronic arm and shoulder pain. We also see tightness from paddling, swimming, overhead lifting, and golfing.
Carpal Tunnel Comes from Repetitive Strain
We've also seen several patients with carpal tunnel syndrome. Carpal tunnel syndrome is a chronic repetitive strain condition. Computer use, gardening, or using the hands for crafting can bring on carpal tunnel.
We Recommend Myofascial Blading When Home Remedies Don't Work
Sometimes home treatments like ibuprofen, laying on a ball, trigger point work, stretching, or using a foam roller don't offer long term relief. That's when we recommend a technique called Instrument Assisted Soft Tissue Mobilization (IASTM). IASTM is also known as soft tissue blading or Graston.
Our Patients See Benefits from Blading
Runners like Jaquline M. have seen great results from IASTM:
"My hip was bugging me when running. I thought it was a pulled hip flexor. I tried stretching, self massage, acupuncture, and cupping. I was into whatever was going to make me feel better, a weird metal scraping thing included. I was just ready for some relief.
 
I felt amazing after my treatment. I actually felt like my muscles and tendons totally relaxed and were less inflamed. I don't think my problem is quite resolved, but after my first treatment I had so much relief that I was able to start running again!!!!
 
 
I am still under care because Goldi just located where the problem was originating when she tried working on me last week. I will definitely say that my leg feels more "normal" than it has, and I'm less aware of the ache and pain. I'm so relieved because I have signed up for a big goal race, and after this treatment I feel like I can actually do it!"
Lifelong athlete, commuter, and computer user Joy M. has also seen benefits from IATSM:
"I was seeking treatment for neck and shoulder pain. These seem to be chronic injuries from years of sports including gymnastics, cheerleading, golf, and track and field. Commuting and sitting in front of a computer compounded and exacerbated the pain. I had received physical therapy, medication, and some chiropractic treatment to help manage my symptoms.
 
To be honest, at first I was scared ! It was described as "scraping" and we'd try it "next time." It sounded invasive to me and I couldn't quite figure out what was going to happen. I trusted Dr. Goldi, and approached my next appointment with an open mind.
 
When I went to sleep the night after my first treatment, I remember the relief I felt in my shoulder as it relaxed into a position I hadn't felt in a long time . Such a wonderful feeling! Now, I go in to my appointments asking for blading!"
What Symptoms Does IASTM Relieve?
Chronic pain
Soreness from your workouts
Knots in the muscles along your neck/upper back
Stiffness or limitations with active range of motion
Consistent pain when performing your sport
Which Conditions Does IASTM Treat?
Carpal tunnel syndrome
Plantar fasciitis
Trochanteric bursitis
Hip pain
Neck tension
How Does IASTM Work?
Dr. Goldi uses Graston and RockBlades as her preferred non-invasive IASTM instruments. These stainless steel instruments help identify and treat soft tissue fibrosis or chronic inflammation. They also help to address scar tissue and fascial restrictions. Blading helps during rehabilitation and range of motion maintenance programs as well.
 
IASTM helps relieve the adhesions and tension along the muscles and tendons. Blading techniques successfully treat chronic, acute, and postsurgical soft tissue conditions.
 
In time, blading reduces or eliminates the adhered fibers. This restores range of motion and eliminates the associated pain. It helps transform your soft tissue injury into healthy functioning tissue. People feel and move better, which is the true goal of any technique Dr. Goldi uses in the clinic.
Does Blading Hurt?
Treating a soft-tissue injury can be uncomfortable. While bruising is not the intent, soreness can occur during treatment. Blading does not need to be "painful" to be effective. Please inform Dr. Goldi if you are experiencing discomfort anytime during treatment.
How Long Do I Need to Be Treated with Blading?
One or two treatments per week during a four-to-five week period is most common for good results. Most patients have a positive response by the third or fourth treatment.
 
Athletes love IASTM because we can improve their active range of motion, and help with recovery with just a few passes. Blading can help you enjoy life again. Make an appointment to see if blading is a solution for your pain.
To Learn More About How Blading Works, Visit These Links:
——
Could you use some support calming your Nervous System? SIGN UP HERE for the Free Self-Care is Healthcare 5-Day Challenge. Dr. Goldi will show you a simple way to feel less tension, stress and anxiety.
Feed